Fitzroy Under 10 Blue 2009
Coach - Dick Terrens
Assistant Coach - John Ramshaw
Trainer - Rob McKenzie
Team Manager - Simon Hakim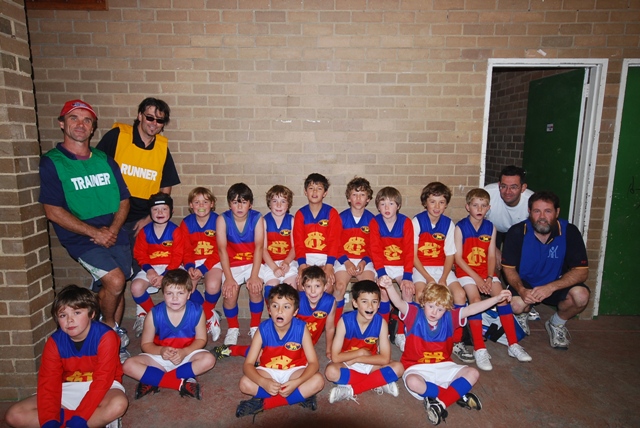 Archive of game Photos
Fitzroy U10 Blue Game Photo Archives
Round 7 - Sunday 31st May 2009
This weeks game is a home game at the Kevin Barlett Reserve - game time 10:00am. Blue shorts
We are playing Warrandyte who are sitting just above us on the ladder with one win to their name. Good luck to all the boys who will take up slightly different positions this week.
Round 6 Sunday 24th May 2009
We traveled out to the leafy suburb of Park Orchards to take on the Tigers at a very picturesque ground where the boys put in their best efforts kicking a number of goals through determination and team effort. Some great marks, hand passes, relentless tackling and team work saw the boys only a couple of goals down going in to the last term. We couldn't quite keep up with the Tigers who moved away but still had us on their tail right to the end. Good fighting spirit was shown by the Roys who clearly have started to understand the game and commitment necessary to run out four quarters. Well done to the boys and a special mention to trainer Robbie who strained a calf muscle and was helped from the ground.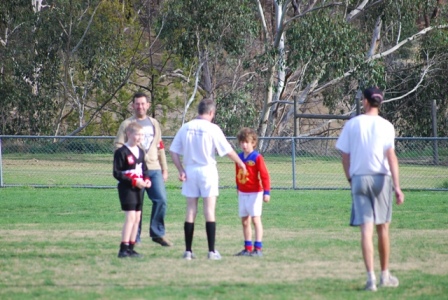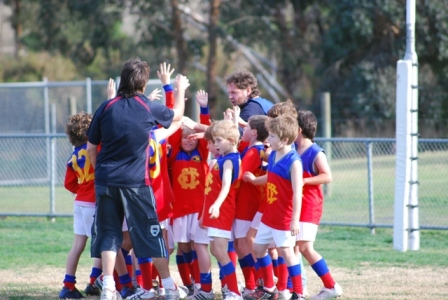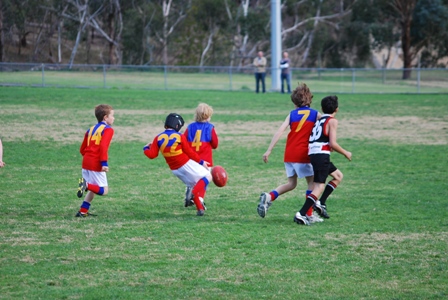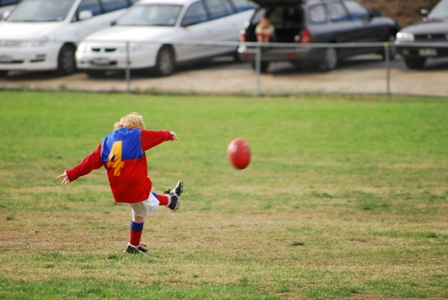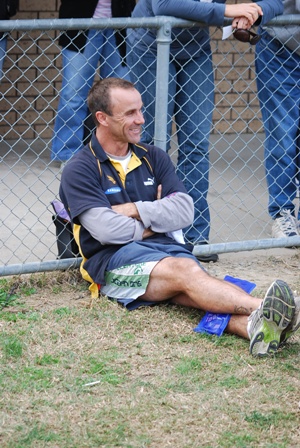 Announcement Regarding Training 20th May 2009
From Wednesday 20th May the boys will train on the Brunswick Street Oval (BSO) and kids should be dropped off at the Alfred crescent Oval at the usual 4:00pm but collected from BSO at 5:30. The ground had been raked twice in the last six weeks and topsoil spread creating a more even surface and importantly greater space and fixed goal posts providing a better practice facility for the boys.
News from The Coach 7th May 2009<
Well the boys have now had three games in to the season and face their fourth grading game this week at Kevin Bartlett Reserve Richmond. We thought it was time to have a chat with Coach Dick to see how he felt the boys were progressing and review what's been going on at training. Here's what he had to say :
The boys have worked really hard and there have been some good signs at various stages in our games. In each match we have been competitive for at least a couple of quarters and our players will soon start to learn that they need to concentrate for the full 60 minutes. Our skills are improving and we have spent plenty of time at training working on executing them under some pressure. The boys ability to read the play and maintain their positions is starting to develop. So far we have played a couple of teams who's boys have already played a year or two in tackers and so they have kept to their team structures much better than us. With all of our boys playing their first season of club football, we should see much more development in these areas as the season progresses. We have 12 weeks left in the season and so we will break that up into three week blocks. The boys will each play in one part of the ground for the next three weeks (ie either back, midfield or forward) to get a better idea of what's required. After that the boys will play the following three weeks in a different area and then after that in the third part of the ground. John and I will try and teach the boys what is required in each of these specific roles. By the time we get to the last three rounds we should be able to settle on a stable structure with the boys in the positions which best help the team. This week is the last of the grading rounds and so some of the stronger teams in Blue might then get moved up into Green. This should see the competition become a bit more even from round five onwards. All our boys have shown great enthusiasm and have continued to play with terrific spirit and I'm sure these qualities will see us find some success sooner rather than later.