Contacts
Coach – John Ryan – jrpaint@hotmail.com – 0413 963 955
Team Manager – Jenny Cocks – cocksie@optusnet.com.au – 0408 450 807
Assistant Coach – Damien Wright damien@wrightstudios.com.au – 0447 728 882

  DIV 4 Fixture       

  DIV 4 Results        

  DIV 4 Ladder  

  Team Photos
 
Our Team
Jack Barrett, James Butler, Noah Darby, Poseidon Dart, Jackson Frenkel, Adam Harris, Harry Hopkins, Nicholas Johnston, Rory McGrath, Joshua Matthews, Ned Monaghan, Nik Moraitis (Captain), Dan O'Connor, Gabe Oliver, Sam Parlati, Zac Peters, Miguel Predebon, Jamie Radcliffe-Smith, Angus Ryan, Will Symonds, Matthew Thomas, Nic Visser, Nicholas White, Bernard Wright, Andrej Yaksender.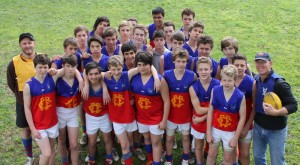 Training Times and Venues
Tuesdays: WT Peterson Oval, Brunswick St, Nth Fitzroy 4.45 to 6pm
Thursdays: Ramsden St Oval – Cnr Ramsden St & Field St – Clifton Hill 4.45 to 6:15pm
 
Preliminary Final against Ivanhoe, 19th August 2012
A note from our Team Manager:
Dear Bgr8rs
Well no-one can say that the boys did not put in 100% …… the opposition just looked enormous.  Did think about jumping on the back of No. 15 but I don't think he would have noticed!
So first load of washing is on and I got to thinking about what a GREAT season it has been.  Players – it has been a pleasure to be your TM this year.  Nothing has made me prouder than hearing the field umpires talk about the FJFC U15Bgr8 team, using terms like "fair", "playing hard", "good group".
Also, an additional big thank you to the following people:
To our regular first aid trainer:  Tim Darby – a job with a lot of responsibility – better him than me!
To our boundary umpires – Mick, Trevor & Richard …. HIP HIP HOORAY ….. I believe the league provides boundaries for next season so you guys can now retire.
And to all of you parents who kept offering, volunteering and jumping in at the last minute to help me out – it was noticed by me and SOOOO much appreciated.  So to our trainers, goal umpires, scoreboard operators, timekeepers, umpire escorts and suppliers of oranges & snakes – THANK YOU.  Without you guys the boys would not be able to play.
 
Semi-Final Slaughter of Ashburton in the Slush
Well done players – a very decisive win.  A match played by the Bgr8s in a concentrated, focussed and effective display of teamwork.  TM could not be prouder.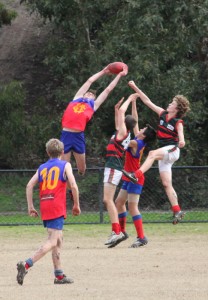 Manager's Update Round 7
It going to be a big match against Ashburton this week.  Not only is it the indigenous round but we have two players celebrating landmark games.  Andrej will be playing his 100th game and Adam will be playing his 50th.  Well done both of you.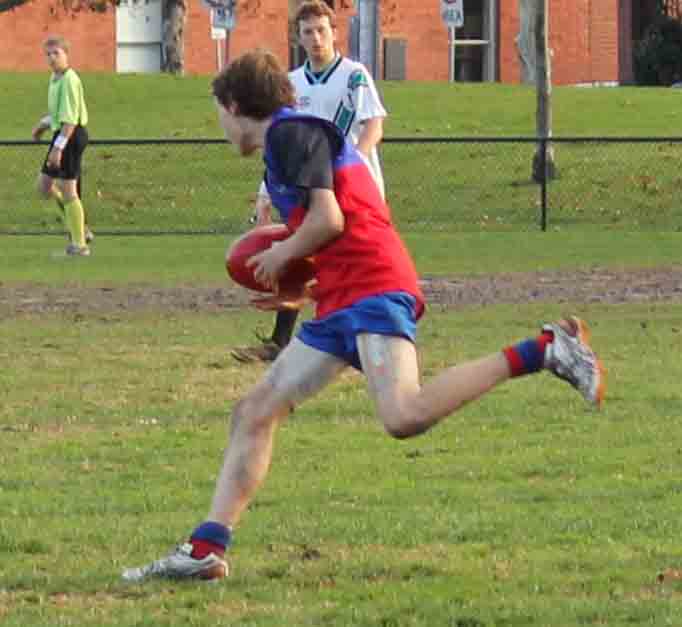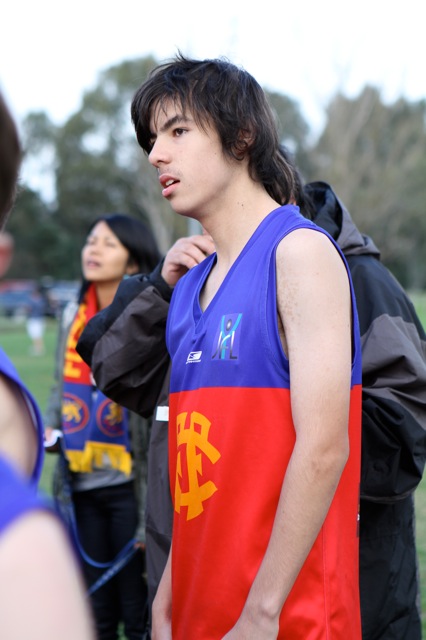 Congratulations  on 100 games Andrej!
Congratulations  on 50 games Adam!
 
Manager's Update 8 May 2012
Twas a big day of footy last Sunday all day at WT Peterson's.  We weren't completely smashed – just slightly outplayed.  Well done to U15 Div 1 – a win well won.
Our division had some interesting results on Sunday …. we are sitting nicely at 4th on the ladder, just under the victors of last Sunday's match.  It is still an open field – we are about 1/3 way through the season (not that I am counting down Sundays).
Welcome to Joshua Matthews, a new player who started with us last Sunday – hope you have a great season
Liam Niere came across from Div 1 for last Sunday and tells me he had a good time (although he could just be placating the TM).
And Aki left the ground sporting a bloody lip which by evening was blowing up nicely
Thank you to all the parents who helped on Sunday – much appreciated as always.  Our scoreboard operator provided the TM with much amusement – better viewing than TV!
Would love to be able to give you info on future matches (ie place, time, opposition) but the only fixture published online (as at ten minutes ago) is for Rd 6 – this Sunday.
We are back at WT Peterson again (home game) for 3.00pm match – players there at 2.00pm please.
  Coach's Report – Fitzroy v Ivanhoe 22nd April
Fitzroy 4:4:28  Ivanhoe: 9:6:60
It was another hot and windy day and I was hoping for a strong first quarter. Kicking into the wind against a bigger opposition was going to test us. Thanks to some strong ruck work by Marcus, Sam and Dan linking up in the backline and attacking straight and Poseidon's strong marks at centre half back, Ivanhoe were limited to only 3 goals. In the forward line Nic Visser's second and third efforts, eventually hand balling off to Angus resulted in a great team goal.
In the second quarter our desire to win the ball was still present. But with only 1:2 kicked with the wind shows us that our forward set up needs some work. This will be a major focus at training. The highlights of the quarter were Will's gut running, Adam's shepherd for Marcus, Nik's ability to get the ball time and time again and have the composure to deliver it while under pressure and Rory's strong hands in the forward line.
Third quarter starts with Nik having three possessions in the first 90 seconds. Jamie starts to show his aggression at the ball and Marcus continues to win in the ruck and run on relentlessly.
The last quarter was hard fought with two goals to each side. It was good to see Matt,
Nick J, Will, Harry and Nic V all having their best games to date. Bernie showed great strength in the last quarter. Gabe's unrewarded running did not go unnoticed and Andre played well despite a leg injury. Aki attacked the ball well.
After the way we played on the weekend I hope that everybody realises we are competitive against the better sides. If we continue to follow our team rules and maintain intensity we can look forward to an enjoyable and successful season.  GO ROYS!
John.
PS I think we need to identify ourselves from the other under 15 team and not be referred to as "Division 4 Boys" or "The two's". Have a think about a possible name and let's discuss it at training.
  
Photo File
Practice Match against Ivanhoe 25th March

Further contributions to our web page welcome. Please send to angela.kapnias@gmail.com.