Contacts
 Training
Wednesdays – 5.00-6.30pm – Peterson Oval
Fridays – 5.00-6.30pm – Ramsden St
 Fixture/Results
 Photos and Match Reports
Preliminary Final Fitzroy 10.10.70 def Banyule 4.6.30
Banyule – the prelim
Another super-windy day for footy. The ground was in pretty good nick but watching the game before it was going to be hard to score at either end given the wind.
Before the bounce the boys and parents and coaches and hangers on all looked  a bit nervy; – it was good to hear some of the leaders lifting their voices and rallying the troops, getting them focused. There was no 'stuffing around' this week and the Royboys came out hard at the ball. We were pushing the ball forward, with the midfield getting on top but it was tending to get caught in the 'dead' pocket. Eventually the pressure began to tell; – Jayden got a free kick and managed to slot one form the pocket after an extended bit of forward pressure.  Rhys was his dynamic self, breaking tackles and kicking long, Kenna was mopping up, Jackson was hard at it. In fact all the boys were getting their bodies over the ball and Banyule didn't look like scoring.
The second goal showed the progression we had seen all year; – Jimmy Miller to Rhys who centred to Huddo. Huddo hit Deniz on a lead , and he kicked long to Nate, who took the grab and scored. It wasn't just the chain of possession; – it was the fact that Jimmy and Rhys were willing to take the risk and transfer the ball into the corridor early to Huddo which opened up the game.
The second quarter was not as memorable. Banyule played really well and scored four unanswered goals and although the defence seemed solid enough , the Banyule boys ran the ball very well. But unlike last week the boys dug in. Great smother from Roy, great intercept from Ollie, a couple of tackles one after the other from Kenna, a shepherd by Cooper, making a contest of every ball.  And slowly we began to right the keel of the ship, and just before half time Jackson, who was at his feisty best, earned a free kick and goaled to have us one point behind. It was a great momentum shift.
The third quarter showed the boys turning it up. The Rhys and Roy clearance machine kicked into gear and they were really beginning to dominate the clearances.  The forward pressure was great and the ball was being kept at one end. Being so windy it was hard to pinpoint passes so we had to rely on effort and team support to move the ball. One of the parents said it looked like we were "rumbling the ball forward" – and we were. Unlike the previous week you could see each player taking their turn. In conditions like that its about intent and wanting to get to the contest and for a while there,  Kester was getting to every contest, tackling and diving in. He is probably our best rumbler and shows what real intent is. We managed to snaffle a couple for the quarter and turned into the last quarter with our noses in front.
The last quarter really showed us getting on top. The defence was rock solid with Day organising. Lewis was impassable and pulled in mark after mark. When the ball got through Hugh was tremendous  and he saved what looked like a certain goal and kept the ball moving to safety. Eren left his man a couple of times to get to a 50/50 ball to help his team-mate. That was definitely missing from last week. Jacob was given the task of closing down Banyule's best playmaker and stuck manfully to his task really curbing that boy's influence.  Jimmy was quarterbacking, hitting targets and setting up play. And the boys began to run the ball to the scoring side of the oval and were rewarded.  Eren burst from the centre to find Mitch who kicked it through and proceed to give it the Jonathon Brown salute. Johnny Mac gave the ball to Rhys, who was really tearing it up , and he kicked long to a Jayden contest – the ball spilled and Al hooked it over his shoulder for the next goal. Roy grabbed the ball out of the middle and kicked long to Jayden who goaled again. Eren and Huddo kept the ball moving across half forward until it got to Rhys, and te ball ended up with Jimmy who kicked  a great goal. The last goal followed a similar path. Rhys kicked it  long to Jayden who got a free-kick and unselfishly chipped it to Jackson for another goal.
Everyone had a go this week and supported each other. We began to show the self-belief that we have had all season and got moving again. This week is the big one and we are up against our Nemesis; Citz. They are a good side but I really believe we are the better and what's more this week is our chance to prove it.  Considering how this group came together;- old Roy boys who played together under Tim K last year, Roy boys from other sides, first-time players, players returning to the fold  and players from other sides it is a credit to Tim, Craig, Jody and the boys that they have managed to forge such a tight group. It's been brilliant to watch you each week and you deserve this.
So Boys, take a knee. I've watched enough Fitzroy teams old and new to feel like I can ask a few things from you:
LEAVE IT ALL ON THE GROUND: Whatever happens come off exhausted, use every bit of effort you have. There really is no tomorrow and its important to know you have done the best you can
DO IT FOR US!; – Your families, your teammates in other sides, your club and your extended community are right behind you. We are all incredibly proud of how you have played and incredibly hopeful for you all  – there's a hell of a lot of support there and just know we are right behind you
DO IT FOR YOURSELVES!! You have deserved this. You have worked so hard. Even when you have not been playing champagne footy you have found a way to win, and as far as I can tell it's simply because of the quiet determination and desire not to let each other down. You are a terrific bunch of young men and you have been awesome all year. And now is the time to bring the cup home.
So see you all Sunday. Only a few more sleeps. GO ROYS!
Semi Final Hawthorn 6.10.46 def Fitzroy 2.5.17
2nd SEMI  – HAWTHORN CITZ
It was hard day for footy out in the wilds of Ivanhoe; – big ground, windy as, parts of the ground water-logged and we were facing a team which we had faced once in the infamous 'Ready-gate' match. And it was a final. And when we looked around at the players as they went out, there were plenty of nerves but excitement as well, and even more so when we started kicking to the end favoured by the wind.
For the first 10 mins of the quarter we had all the ball and were pushing deep into the forward line, but we were getting caught up in the dead pocket. Citz were playing good disciplined footy with a couple behind the ball and a determination to keep the ball bottled up which succeeded for the most part. The game was messy and it was appropriate that the first goal came from a rumbling maul with Jayden getting his foot on the ball last to get us off the mark. We kept the pressure up and not long after Deniz marked from a kick out and goaled to put us two ahead.  But against the run of play, Citz ran the ball up and scored twice within minutes of each other. Those five minutes proved to be vital as both sides went in on an even keel.
For the next 3 quarters the game was a real slog with both sides playing tough footy but, to be honest, Citz had the polish and although we kept them to four goals they kept us to none.  It's never easy in these sorts of games to tough it out but the boys kept their chins up and had a real go. For much of the game it looked like rugby; mauls, rucks, inching the ball around the ground. It wasn't pretty.
As a team I think we got lost a bit and our teamwork dropped off. I think as individuals everyone had a real crack, but we weren't linking up and supporting each other as a team. It's often the case that when you get behind that you focus more on what you are doing rather than really supporting your fellow player. It's a hard lesson to learn but one that we haven't had to face this year and I know that the team will improve and be ready to fire up this week.
I thought a few were exceptional in the way they contributed.  Daylon was desperate and led the defence with his hard straight running, sure hands  and work ethic. Jackson was terrific and fought for every ball, and in every contest. Rhys was dynamic and brave and had the guts to take the game on whenever he could. Geron was clever and worked his way through traffic and kicked well.  I thought Eren and Kenna never gave up and kept working right to the end, as did Roy who had to take on a revolving door of talls.
So now we face Banyule. They are a good side and will be desperate to knock us off. We need to match that desperation and do all the things that have made us a really good team this year; – hard work, running to space,  playing as a team, looking out for each other and sharing the ball. We need to be first in at the ball and the last one up from every pack, and we  need to give it our all.  It's a real chance to show everyone that you have earned the right to play in the Grand Final. You are a terrific footy side and a better bunch of young men, so go out there and give it everything . GO ROYS!
Round 15 Fitzroy 9.12.66 def Bundoora 2.3.15
Bundoora Again.
For the fourth time this season the boys turned out against our arch-nemesis –Bundoora. From the kick off  we showed good team work and composure; – Rhys to Jimmy to Rhys to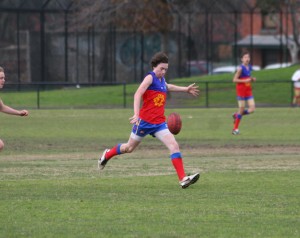 Nate who dished it to Kenna who unfortunately missed. But great work out of the centre.  The next few minutes saw constant forward pressure, with Bundoora struggling to clear their 50. A kick out found its way to Deniz who showed good hands to Jimmy to Jayden for a goal. Jacko was working really hard on his flank, and his pressure resulted in a centring kick to Jayden who slotted his second. The Roy and Rhys show out of the centre was working. Al was doing a good job off his wing; – Ollie was all over the place working in hard and winning every 50/50 ball. We were travelling well. But in the last few minutes Bundoora did what they have done in all our previous matches; – against the flow they kicked the ball long for marks and back to back goals and nothing in it.
The second quarter started off with probably the best of Jayden's many goals for the day; –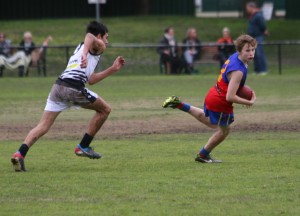 Mitch pumped it forward, and Jayden found himself spinning, and whirling out of a pack with people seemingly unable to tackle him. He eventually made enough space for himself to snap his third for the day. Kenna was doing his usual kick behind play routine mopping up and helping keep the ball moving our way. Across half back Geron was his side-stepping best and James T, Lewis and Daylon got right on top of the dangerous Bundoora forwards. Jayden kicked his fourth. It was getting colder
Rough start to the third quarter with Rhys getting collected on the wing in a tremendous collision. To his credit, he picked himself up and somehow managed to get involved in the next bit of play – Huddo punched the ball to Rhys, Rhys chipped it back to Huddo who got it to Deniz and onto Jayden for his fifth. Bundoora were really cracking it at this time and there were arms and legs everywhere. The game was developing into a real slog and we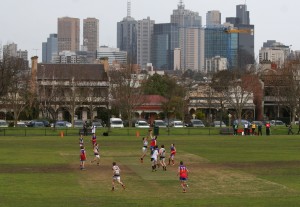 were just being a little cleaner and finishing better. And Jayden helped. But it got down to endeavour in the trenches to get it to him; Eren, Jimmy, Jackson and others all forcing the ball forward, Jimmy shepherding away a bigger kid to free up Jackson who kicked long to Nate who got it to Jayden for his 6th.
After ¾ time coach Kenna swung the side around a bit and Daylon duly popped up in the front and goaled after pulling the ball out of the ruck and snapping truly. Well done Day! Cooper was beginning to rack them up across half-forward;, and James T was solid
and with Huey and the guys repelled any attacks that made it to half back. Mitch kept patrolling his wing driving the ball forward, Johnny showed composure and sure hands that will surely result in mark of the year one day, and Eren kept attacking the ball through the centre. Al was getting more of the ball as the game wore on along with Cooper. And in much the same way as he has all day, Jayden collected the ball at pace, burst through a pack and snapped a goal to make 7. Deniz who had popped up a few times finished the game off with a nice snap.
In the end we played well and deserved our win, easily our best against a side which matches well with us. Jayden was very good, but he got on the end of some solid, blue-collar team work with good hands, desperation to keep the ball moving at any cost and as the game wore on better and better disposal by foot. Bundoora were hard at it and it is a sign of our improvements that we could convert our supremacy into a 9 goal win.
Next week the arch-nemesis – Hawthorn Citizens in the Qualifying final. We have had a great year but this is a new season and we need to be primed and ready to go at our best. No doubt Citz are a good side but so are we, and there is a score to settle. We all know what I am talking about. No prisoners Roys, no prisoners.
GO ROYS
Round 14 Fitzroy 10.17.77 def Camberwell 3.6.24
Q1 A slowish start to the game with the boys kicking into a stiff breeze.  Not much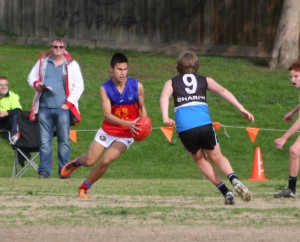 happening with disjointed play and a battle of the defences. Daylon showed a some strong defensive presence and, with Lewis and the gang, had no trouble running the ball out of defence. Mitch was good on his wing and Eren continued his good form on the back flank .  We were playing well but struggling with the finishing pass or shot, but we were also closing down well on Camberwell which meant that both teams were without a goal at quarter time.
Q2 The second quarter looked more promising. Eren helped set up the first goal; – Eren to
Jimmy who kicked long to Jayden in the forward pocket who tapped it along the boundary line before scoring a lovely snap.  Jayden got the second after a Roy to Rhys clearance special followed by a nice mark. As the quarter rolled on Rhys really started getting into the game and began driving the ball into the forward line time after time. The 3rd goal was a lovely bit of team play; – Roy to Huddo and good hands to to Jimmy who slotted it. The fourth came straight from the subsequent bounce; – Jimmy burst out of the pack and hit Nate deep. Jimmy kept running and Nate hit him with a lovely handball and Jimmy got his second in a minute. James T was continually driving the ball from half back and along with Kester and Cooper they were putting Camberwell under lots of pressure. The fifth goal was the result of that pressure; – a Camberwell player under the pump deep in defence kicked blindly and Al took  a strong mark and kicked a long goal. Five goals in the quarter and the boys really getting on top.
Q3 A good start to the quarter. Rhys hand-balled to Mitch to Johnny Mac who drove it forward, lovely tap on from Deniz to Nate who had no trouble putting it through. Starting
to play nice footy now, sharing the ball around with everyone contributing. The next goal came after a free kick to Kenna who was going in hard as usual. He bombed it long and Nate and Fergus worked hard to keep the ball in play. Eventually the ball spilled to the pocket where Jayden managed to hook it into the point of the square for Jackson to mark and goal. Just good tough team play, and plenty of good signs.
Q4 The first goal of the last quarter was symptomatic of coach Kenna's vision being realised. Johnny Mac kicked it out to Rhys to Mitch to Huddo and to Roy, who kicked long to Jayden who did what he does best- pack mark and an excellent goal.  The Roy and Rhys show got rolling and they started dominating clearances. Jimmy kept cleaning up across half back and the centre and disposed of the ball beautifully. Then another bit of great of play; – Eren bursting out of half back kicking to Rhys;  Rhys to Kester who kept the ball moving to Jackson who went long to Jayden who duly marked and goaled. Hugh was solid down back, and kept mopping up. Eren moved onto the ball and Al found him across half forward and he duly goaled. And that was about it.
All in all a good team performance. James T, Lewis and Daylon were solid and really hit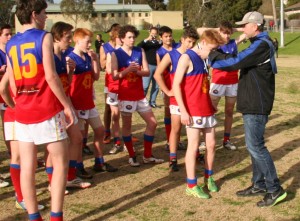 the packs with intent keeping the ball in front of them and running it out of defence; Johny Mac glided around and all of his touches were good. Huddo showed good hands, Mitch ran well and Roy was his usual relentless classy self. Kenna keeps showing improvement and Rhys and Jimmy (who won the opposition medal from Camberwell) worked both sides of the centre showing lots of skill and talent. Jayden finished well and he and Nate straighten the side up and provide good targets. But really everyone played well and we played good solid football for much of the day against a top 4 side.
This week we face Bundoora again! For whatever reason its always a good tight match so it should be a real challenge. Go ROYS!
Round 13 Fitzroy 4.14.38 def Warrandyte Doncaster Heights 2.3.15
If you were measuring a game looking at the highs and lows and the enjoyment factor, then this game started high and gradually wound itself out, into a dour struggle on a cold and windy  but sunny day on a muddy Brunswick St. But first the highs.
Jimmy Miller played his 100th! He is a cracking player, one of our best, and he has both the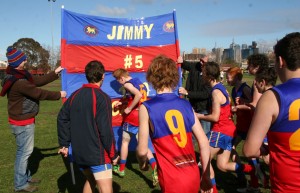 skills and the footy smarts to be a very important part of our team. Beyond that he is a terrific young man, and it's a pleasure to watch him gliding around each week. Well done Jimmy!
As for the game, it was an ok start with the Roys pressing pretty hard from the jump. It was good to see Deniz and the twins back, giving us 22 on the field. Roy was good early, and Eren and Jacob continued their good form from last week, working hard and driving the ball forward. We were working into the wind and found ourselves pushing into the 'dead' pockets. But the pressure eventually began to tell; – Jayden centred the ball from the pocket for Johnny Mac to take the mark and goal to get us up and going.  Lewis was throwing himself in and smothered two kicks in succession and was doing a good job of being impassable. Geron took a nice mark got the ball to Jimmy who worked it forward ending with Jayden for a goal. Jayden got another after a nice bit of play involving Roy, Rhys, Huddo to get it into the forward line. Cooper was linking up well from the back, and Kenna was finding the ball in the centre. Many of our attacks were coming from defence and we looked ok. Messy but ok.
And that was as good as it got. My notes for the 2nd quarter say it all – "worst quarter of footy for the season. Kenna ok. Roy ok. Huddo kicked a clever goal with the outside of his foot just before half time. 4.7 to 0.0."
The third and fourth quarters played out much the same. To their credit Warrandyte Doncaster Heights showed plenty of fight and worked incredibly hard, chasing, harassing, smothering and tackling putting our boys under pressure. Quite a few of the Fitzroy boys found themselves penalised thinking they could take on tacklers. Marks were dropped and there were plenty of missed targets. Conditions weren't great but they weren't that bad either. Not even coach Kenna giving them a rev at ¾ time fired them up. Maybe it's best to put it down to one of those days.
Over the whole game there were only a few consistent contributors.  Lewis played really
well in the back half and Jacob attacked the ball as hard as ever. Roy never stopped. Eren continued his recent good form. Jimmy was the cleanest of all the players. Everyone else had moments but it was a patchy performance.
The previous week had been probably our best game for the season at least in the way the boys played. This week wasn't. For whatever reason the  Roys found it hard as individuals and as a team; – there was more fumbling, dropped marks, misguided handballs, and broken passages of play than we'd seen for a long, long time. Despite this we still found a way to win, which probably speaks to their ability, and a strong 'winning' sense', but it's clear that we still have a big gap between our best and our worst. It's time to keep playing at our best! This week sees us off to the wilds of Camberwell who are fighting for a place in the four so it should be a hard game. Go Roys!!
Round 12 Fitzroy 20.22.142 def Beverley Hills 2.1.13
Last Sunday afternoon the boys went out to play Beverley Hills under grey skies at their place. As with previous weeks, injuries and holidays saw us with the bare 18 for the game. The ground was one of those which tilt down the hill and are open to the wind. Nice view though.
Q1 – Anyway,we started off uphill and into the wind. From the jump, the boys threw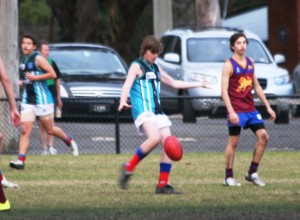 themselves in. Eren was terrific off half back and his ability to get to the contest and win the ball saw him dominating. Kenna was doing a good job in the centre and combined well with Rhys who started the game on fire. After a slightly messy start, we began to settle down and Johnny Mac got the first goal after receiving from James T. Following coach Kenna's instructions, the boys were chipping it round into the wind working the ball up with good overlap and run. Sometimes points tell the story better than goals. Ollie worked hard to get the ball to Jimmy Miller on the flank who centred to Johnny Mac.  Eren hit up Huddo who hit up Johnny Mac. We ended with two points, but two good team points if that makes sense. Eventually we began to get some scoreboard reward; – Rhys found Jayden with a well weighted kick for his first for the day.  Eren kicked to Jimmy and on to Jayden for a goal.  Beverley Hills were struggling to get the ball past the half back line and when the ball did come down it was good to see Daylon back thumping the ball forward and Kester hard at it. And then came a lovely team goal that summed it up; relentless Roy to Eren to Roy to Johnny Mac back to Roy to Rhys, good shepherd by Huddo and then lovely goal by Rhys. Great footy.
Q2 – Off to an unbelievably quick start. Ball forced out of the centre, and after a long kick into the forward line, and a quick goal to Jimmy after a terrific chase and tackle which was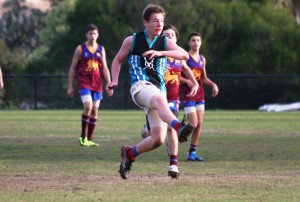 just reward. Within seconds of the re-bounce, the ball was again forced into our forward line and the ball deep into the pocket. Jayden unselfishly centred the ball to Jimmy M who hit his second in a minute. It was great to hear everyone calling Jimmy in so he had the confidence to know he was in good space.  We kept the pressure up – and soon Jimmy had a third after some quick hands, and Roy his first, after a long shot on the wind that cleared the pack to get in. Although we were dominating, Beverley hills were definitely trying hard and showed flashes of good play but we were too strong. When the ball did get to half back Jacob was marking everything and when the ball did hit the ground, he spirited the ball away. Mitch began to get into the game and took control on the wing. Fergus marked strongly. Jimmy returned the favour to Jayden for his third. It looked like they were waxing. Roy and Kenna managed to control the centre square . It was nice to see Day back combining with Lewis and Hugh. Another good quarter.
Q3 – After half time the boys settled into the same good patterns. Eren kicked a lovely chip to Rhys who went long to Jayden for a nice goal. Second goal was a Johnny Mac special; – bouncing the ball along the flank in his nonchalant style, followed by a lazy kick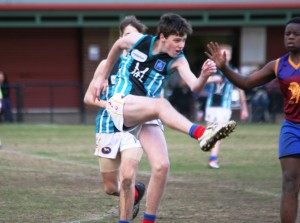 which somehow avoided about 4 people to get in. Kenna was playing really well and is mastering the art of playing in the centre, and his ability to read the play is improving every week. In a lovely bit of team play, Ollie and Mitch combined with quick hands and brains to work the ball along the wing, before the ball got bombed into the forward line to Nate who showed lightening hands to get the ball to Jayden who ran in to kick the goal! Great unselfish play by Nate and it was good to have him back. We were totally on top now and after the ball was repeatedly thumped into the forward line some quick hands got it to Hugh who was injured and resting in the forward pocket. Hugh managed to snaffle his first for the season to the delight of his teammates. It's a credit to Hugh that he chose to stay on injured to help out the side, and he continued to contribute. Elsewhere Rhys was back on fire, Roy was taking over around the ground; Lewis and James T were running the ball forward in nice straight lines out of defence.
Q4 – Great start to the quarter; – Rhys squeezed the ball out to Jimmy Miller who proceeded to pin his ears back and kicked long and true. In no time another long bomb by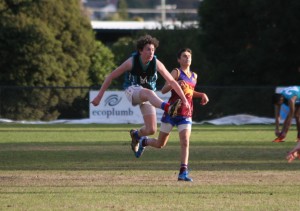 Rhys for a goal and I was beginning to lose track with the flags.  Then we had a long run of points; – 7 straight to be exact in the space of a few minutes. Coach Kenna started flipping players around, and it took one of the Defenders to break the run of points. Huddo ran onto the ball across the centre and hit Daylon on a strong lead with a ripping pass. Daylon clunked it and coolly kicked the goal. Rhys kicked a lovely long goal, Nate was leading hard and took some good marks. Kester took a strong mark and kept burrowing in. Johnny Mac glided around dishing the ball out. Jacob and Eren kept going hard off half back, and played through Mitch and Ollie on their side of the ground. Lewis and James T cleaned up anything that got through.  The Boys ran the game right out and, but for an inaccurate last quarter, could have pushed the margin further. A great team effort.
Sometimes it's easy to do a write up and focus on those who kick goals, or get the lion's share of the ball.  But today, like every week, I felt like everyone really put in and worked hard on performing their role and it really showed in the scores. The improvement in some of the players has been considerable, but the improvement as a team has been greater still.  Many of these boys have played in poorly performing teams, together and apart, over the journey and it's great to see them getting some reward. This reward has come off the back of hard work and real team performances with everyone contributing their best which is all you can ask. But for me, the most important thing, is the way they encourage and look out for each other on the field and the friendly, genuine way they treat each other off it.  They are a terrific bunch of young men and a team in the true sense of the word. Sometimes it's important to say just how proud we are of all of them and how they are going. So – GO ROYS!
Round 11 Fitzroy 12.7.79 def Hawthorn Citizens 5.7.37
Top of the table clash – Hawthorn Citz at home.
Q1- A good start to the game with quick play through the centre, but we had trouble hitting targets in the forward line. The first goal was a little messy with Al scoring after a strong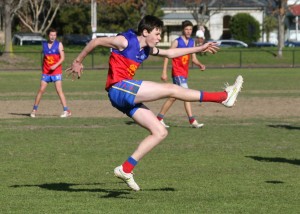 Ready tackle. We had plenty of the ball and kept it deep in the forward line but struggled to finish.  Roy, Al and Kenna were good across the middle and kept the ball rebounding, but we were struggling across half forward. Ready got the second goal after a nice long kick from Jayden, but Citz were playing well and scored from smart centring to loose players. Soon the game began to balance up with us shading it.  Rhys was getting plenty of the ball and Kester was great across half back. Jimmy worked hard through the middle and was one of the few to hit targets. Nothing in it.
Q2- Lots of early pressure but we were not managing to show it on the board. But then, in good reward for persistence, we began to get reward. Roy and Rhys, Ready and Jimmy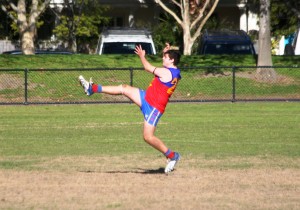 really got motoring and started pushing hard and the first goal came after a good snap by Kenna. And then we got to sit back and watch the Jayden show; in quick succession 3 great snaps and a mark and goal all in about 5 minutes was just reward.  The Roys were really in control and any time the ball did get through the 'wall' Jacob and Lewis, who did a great job on the tall forwards along with James T were great.
Q3 – Citz came out to play and dominated early and lucky for us scored lots of behinds. We were under plenty of pressure. James T was solid and Lewis was good spoiling and
running from deep in defence. Kester, as always, was hard at it and his ability to keep the ball in front of him as he hit packs was excellent. Despite these efforts we seemed to lack a bit of cover and Citz began to score. Ollie got his hands on it and stopped more than a few attacks. We struggled to get it forward but when we did Jayden managed to kick one to keep us a few kicks ahead. As with most games we seem to have a poor quarter where we struggle; – maybe concentration, maybe complacency, or a lack of urgency.
Q4- Back at the coal face and the boys really tightened up. Citz really had a crack but we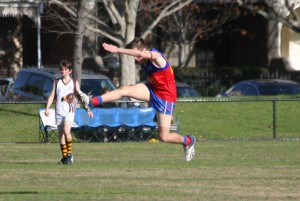 regained composure and control. Jimmy Miller played sweeper as if born to it, seemingly reading the play like a book and continually cleaning up across half-back.  Jayden kicked his 6th and found Al who kicked his third. All the boys began to hit targets with nice play and good marking- Mitch, Huddo and Jackson all took strong marks and the ball switched around quickly. Everyone kept running and we basically controlled the game with Rhys finishing proceedings with a giant a roost from the edge of the centre square.
All in all a terrific win against the second side. Thanks to Ready for filling in with great aplomb and class. Go ROYS!
Round 9 Fitzroy 9.10.64 def St Marys 7.5.47
Good start to the day with enough boys to have the luxury of one on the bench. Nineteen! Good to see Fergus and James T back from injury and new recruit Rhys Dolby in for his first game
Q1 We came out of the blocks flying with Roy getting the ball rolling, often to Rhys who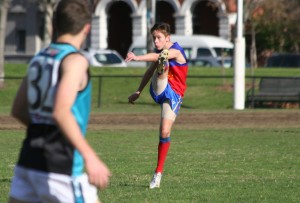 showed really good signs in the middle, getting his hands on the ball and breaking tackles. It wasn't too long before we got our first goal. It came from a nice bit of work from Eren who made a great pick up from the mud and good hands saw the ball get to Ollie who goaled from the angle. Our concerted pressure saw some nice, but frustrating points, and it took a lively mark and long kick from Jayden to get the second. Up back, Geron, Cooper and James T across half back were solid and worked hard to repel St Mary's as they gradually worked into the game. But we still held sway and soon were rewarded with a nice goal – Eren again showing real dash and good hands, getting the ball to Mitch who hooked it into the corridor for Jayden to mark and goal. There were some terrific individual efforts; one from Jacob who did the human pinball thing against 4 opponents bouncing from tackle to tackle, and a similar, one out effort against many from Kenna in the centre showed the boys were switched on – and 16 points ahead.
Q2 A slower start  to the quarter with St Marys really  cracking in and they scored an early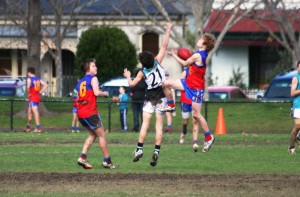 goal.  Jacob and James were great across half back and Mitch started controlling his wing and really began driving attacks. The Rhys and Roy show began to work the clearances and good things started to happen. Eren goaled from broken play and Huddo snapped a beauty after good work by Fergus to get him the ball. Then a lovely bit of play from Jayden to Eren for another goal, was followed by Roy, who finished off a lovely individual effort with a great goal.  A good quarter by the boys against a competitive side.  Al and Mitch worked hard across the middle and took plenty of marks. Kester worked hard as always and Jackson was his competitive self. Things were looking good.
Q3 The game really seemed to change after half time. For whatever reason the boys came out slow and St Marys began to serve it up. The defence began to come under pressure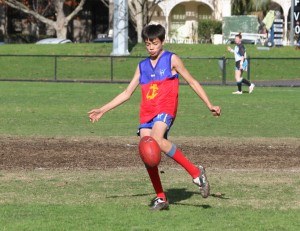 and Lewis and Cooper helped keep good attacking at bay.  But it seemed like St Mary's were harder at it and you could sense them getting confidence. We kept control in the game mostly down to individual efforts . Geron, Hugh and Kester all making vital interceptions at different times and we seemed to lack composure and team effort. Johnny Mac did his ' kicking a goal when we most need it ' routine after a good mark, but it was our only one for the quarter. Not great.
Q4 It was a tense last quarter to watch. St Marys had a sniff and were running hard. We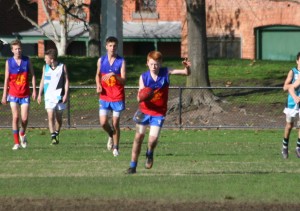 scored early and for the next few minutes it was all hands on deck as St Marys threw the kitchen sink at the boys. We were patchy again; individuals working really hard but we didn't really look in control. Geron was particularly good leaving his man to intercept cleverly. Roy kept at it. Jayden found himself one out in the last line of defence and thankfully managed to navigate through a few tricky situations. But in the end we found a way.  Cooper had a great few minutes marking strongly and sending the ball forward. It was one of these kicks that found its way through a forest of arms and legs only for Johnny Mac to appear from nowhere and soccer it over the line to put the game beyond doubt late in the last qtr after a spirited St Mary's comeback.
Bit of mixed day really.  Over the last few weeks we have played short of players against sides with big benches and we have tended to start well in quarters, and games, only to slow down later.  We also seem to lose a little bit of intensity after we get a few goals ahead. Nevertheless we seem to be able to keep our noses in front and when the challenge comes the boys respond – as individuals and as a team.
More of our injured troops come back over the next couple of games and that should help us run out games. And what a start to the year! We are 9-0 and of all the good habits winning is the best one! So Go Roy's!!!
Round 8 v Macleod Fitzroy 15.9.99 def Macleod 13.12.90
Q1 As we get further into the season the injuries have begun to pile up and we found ourselves with 17 on the field to face Macleod. Normally the 17 a side should mean more space but the ground was small and in surprisingly good nick considering the biblical deluge the night before.
Anyway, there was plenty of space (or not much defence?) and both sides scored pretty freely, but in patches they seemed harder at it. Johnny scored two nice goals including a classic banana from the boundary after a Mitch pass. Jimmy kicked a nice goal when resting in the pocket  and Jackson scored with a long kick from Centre Half forward.  Nevertheless, we were under constant pressure, lots of the boys were fumbling and our disposal was not great. Roy and Al  were clean but things just weren't going to plan. I thought Ollie and Lewis were hard at it in the back half and Ollie managed to 'escape' a few times with neat side-steps and a good turn of speed.
Q2 Better start to the quarter with the Roys putting some nice play together. Matt  Kenna is beginning to  play smart and courageous footy. Al and Mitch found space and the defence found them, especially Hugh, who was clean in defence. Jayden, using strength and guile, kicked a couple. Then a beautiful play from Kenna to Eren ended up with Eren  kicking a beauty. Jayden then kicked goal which is unlike any other that I have seen and it almost defies description. I think the ball hit the back of his foot as he sort of fell and the ball cannoned into the ground and bounced over his head. Anyway a great goal. Roy kept running hard with Jimmy and Al and we managed to keep things rolling.  Jacob harassed and chased hard in the forward line and kept the ball in the forward 50. Macleod were good but we managed under the pressure and we finished the quarter after Eren marked and goaled again after a great bit if play by Mitch who centred under real pressure.
Q3 Messy confusing quarter. Macleod had plenty of run on the bench and the game followed its familiar pattern with the Roys getting a good start and then Macleod coming back hard. But then nightmare – Jimmy off!   He did his shoulder (Acronium I believe) and was soon on his way to the hospital. He had been paying really well and was kicking out from points with good smarts. With Jimmy on his way to the hospital the boys had to lift. Geron and Cooper  showed poise and courage across half back. Roy kept on rolling. Al marked and kicked to the square and Jackson snapped truly. Huddo followed up with a great snap over his shoulder . But Macleod kept at it and the game got scrappier
Q4 Good start to the quarter with Mitch Kicking a ripper followed by a Johnny special from the boundary. Then some special individual  efforts – Kester vs the McLeod forward line and Kester wins! Eren tackling 2 and 3 in a row;- Kenna racking up a season's worth of hits to the head; Jackson diving into packs and fighting for possession – Lewis was good at the back often seemingly against plenty and his spoil to rush a point was vital. Things got very tight down to three points with Macleod up and full of running and our boys hanging on grimly. And then the final play – Jackson (I think) kicking the ball long into the forward line, and  Huddo took a ripping  diving mark  about 30 out on the angle.  Seemingly going back for his shot, he saw Roy running into space and  hit him 20 metres out.  And Roy goaled just before the siren. Home by 9
Anyway a great win , 8 straight and flying albeit with a few injuries. We have a break for a week and hopefully we can get a few back.  Get better Jimmy!
Round 7 v Banyule Fitzroy 12.16.88 def Banyule 8.3.51
Indigneous Round : Banyule at home
Week 7 and with a few out we are down to 18 and up against Banyule.
We bounced out of the blocks quickly and got some early run on with Roy and Jimmy particularly good in the middle. After dominating the first five minutes we managed to get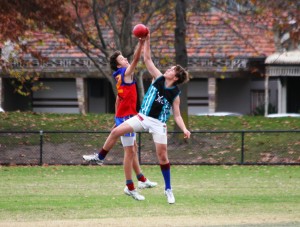 on the scoreboard after some neat football  and Johnny scoring  a nice goal on the run, cutting in from the flank. But after the first goal Banyule settled quickly and begin to kick long into the forward line where they began to convert  after  good marks and goals. There was a  lot of pressure and the backline began to tighten up with Geron and Hugh showing courage and footy smarts to keep repelling the ball.  Mitch was hard at it on his wing. Ollie was great  in the pocket and time and again he managed to clear the lines under lots of pressure. But all in all, not a great quarter, and the Roys were a  couple of goals down at quarter time. The forward line was just not functional.
The second qtr couldn't be more different. The Roy, Al and Jimmy show clicked into gear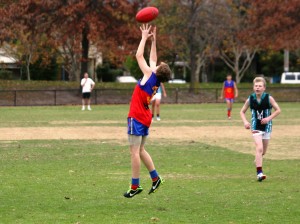 and the ball started clearing the centre with speed and accuracy. Supercoach Kenna Snr moved Jayden to Centre Half Forward and he started to draw the ball and things clicked. Eren kicked two cracking goals and was constantly a threat.  Huddo slotted a great snap, Jayden hit  a couple more and the boys were on a roll.  Jacob bounced around the forward line and his attack on the ball was terrific as usual.  And Jackson marked strongly higher up the  field and picked out targets almost at will. Overall a great team effort to put on 6 goals to nothing.
After half time the game turned into a struggle with both sides showing glimpses of better footy,  but on balance the ball spent most of the time in their forward line. Daylon and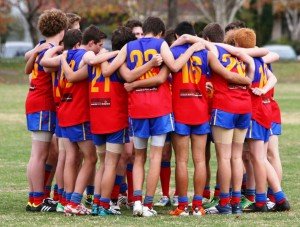 Lewis crunched packs and brought the ball to ground and were desperate in closing the play up. I thought Kester was terrific and his chase and attack and hard tackling really set the standard and everyone cracked in, with Cooper also taking on and beating the odds several times. Al kept linking up on the stand side, often with Mitch and Jimmy,   and his deft kicking hit targets across all lines . Kenna is beginning to work well playing through the centre and he was reading the play well. But Banyule persisted and goaled three times with our only score coming from a clever mark and goal from Huddo.  Only two goals in it at 3 qtr time.
The last quarter ended up being a bit of a rout as the Roys got into gear. Mitch, Roy ,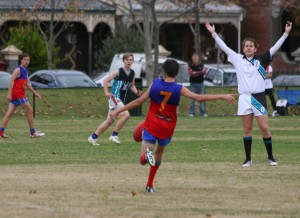 Kenna and Cooper formed 'the wall' and kept kicking the ball into the forward line. Lewis played as a loose man in defence and his run and good judgement turned away many attacks. Jayden, Eren and Huddo all goaled after good play with Jackson's pass to Huddo was a scorcher. Jackson then put his body on the line in a marking contest and got crunched, but still managed to get back on the field. The three redheads all kept working hard and their relentless run and attack kept the ball in the forward fifty for most of the quarter. The only let down was some ordinary kicking ( 4.7 I think) which stopped the score blowing out even more.
So a good finish to the game. Roy deservedly won the medal for best player of the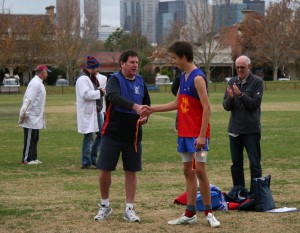 indigenous round.  His ability to be in the ruck, follow up and clear the ball and work as hard in the last minute as the first made him a worthy winner.
Finally a couple of words for Eren's  dad Alan on his first time as a drinks trainer. True professional!
GO ROYS
Bundoora 3 – the saga continues
Strange to be playing Bundoora again after the back to back in rounds 1 and 2 and even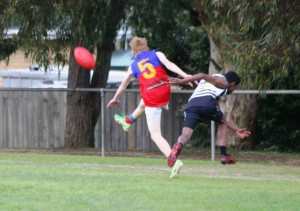 stranger to see them with only one win on the board. They are a better team than that and were after revenge. It was never going to be easy.
Q1 But for the first 5 minutes it seemed easy. We began  with Royboys running in packs through the centre and pumping the ball forward.  Jimmy got the ball rolling, kicking the first goal for the day. And then we hit a flat spot where we dominated possession but had trouble capitalising. Roy and Al ran hard through the centre and Mitch was dominant on his wing. But we kept kicking to a congested forward line and had trouble converting.
When the ball did go into defence the defenders initially had it on a string with Ollie, Hugh and Daylon all clearing well. But then Bundoora began to kick long into the forward line and they kicked a couple from strong marks. James T scored a nice goal after some hard work to help balance out the scores. Not much in it at qtr time.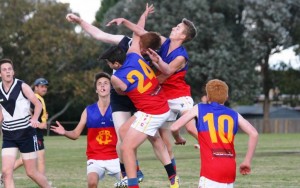 Q2 The second quarter felt like the quarter we had to have. There was a lot of panicked disposal with a lack of composure and smarts. But our effort and endeavour kept us in it and even though they had the bulk of play in their forward half, the boys held fast and managed to stifle scoring. We were ready for our first scoreless quarter until a late mark and goal by Jackson. Bundoora played really well showing real discipline and played smart footy.   Game on!
Q3 As the third quarter unfolded It became clear that it was going to be one if those games. Kenna Jnr scored after an excellent chain of clever kicks. Then Bundoora goaled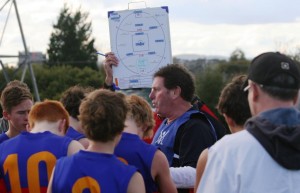 and the game went backwards and forward.  James T kicked one off the ground. Johnny Mac and Huddo got busy pumping the ball into the forward line.  We kept the pressure up and Jayden got one. Then they goaled, bringing them within a goal, only for us to kick away again. It was tough uncompromising stuff.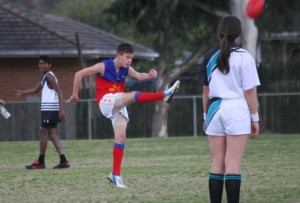 Q4 A bit of a blur really as the game turned into a real slugfest. Our defence was exceptional with Geron a couple of times and Lewis taking a chance bursting out of defence and Ollie amongst others finding a way, often outnumbered.  Deniz took a couple of great marks across half-forward but the boys kept falling short. Kenna Jnr played really well a kick behind the play and, with Mitch, kept driving us forward. But to Bundoora's credit they kept attacking and it was very tense. Daylon took a cracking mark against their big forward to turn the tide. The ball zigzagged up the wing, with Roy, Huddo and Johnny using quick hands and running to keep possession. And then master-coach Kenna's move of Al to full forward paid off when he marked and goaled. Then they sneaked one in, 3 pts in it. And then the winning play – Jayden marks at centre-half forward and lines up for the big roost. Their ruckman runs hard for the goal line, and Roy following him in , turns and sits in the hole where Jayden finds him with a neat pass. Smart. Roy marks and goals capping off a great game for him and the boys get home.
The best thing about the win was that we found a way to win even though we weren't at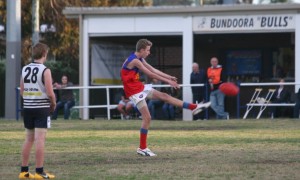 our best. What is clear is that although we have some stand-out players we are a very even side with a common work ethic, and an indomitable spirit. These things count more than talent in tough games and we have them in spades. And they are getting their just rewards. GO ROYS
Mothers Day- Roys vs the Camberwell Sharks
Five weeks in and the boys found themselves in a top of the table battle with the Sharks.  It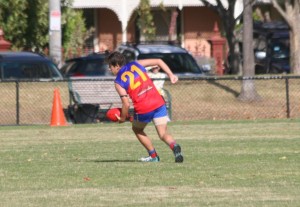 was a breezy mid-autumn day and the leaves were gathering deep in the pockets.
The game got off to the traditional scrappy start with the football occasionally breaking out of a rolling maul.  The Roys began to settle down with the wind, but struggled to convert; five straight points, often off the back of players taking long shots and not hitting up options in the corridor. The Sharks on the other hand didn't have the same problem managing to convert 3 inside 50s into goals with smart sharing football. Not a great start for the Roys.
The second quarter provided more of the same really. The Roys worked hard but were struggling to find their system. The Sharks weren't much better but managed to score more easily.  James T  eventually broke the duck when he kicked a great running goal and Johnny Mac, miraculously recovered from an ACL early in the week, took a good mark deep in the forward line but missed. Everyone was having a crack but the polish wasn't there. Sharks playing smart, us not so much- 4 goals down at half time
Half time was a first on a couple of levels. The first was that we found ourselves behind
and playing poorly. The second was the sound of coach Kenna ripping into them.  Kenna snr is typically pretty laid back, laconic even. But there was nothing laconic about the tirade coming from the rooms. Loud, and pointed. Excellent. As coach he is the one parent who is able to shout at the kids without them shouting back. The parents were all, I suspect, a little jealous. But talking to the boys afterwards they all said they deserved it so all is fair in footy!
The third quarter started frustratingly with the Roy's still unable to inject much in the way of teamwork.  Nevertheless the effort was good – over time they gradually began to get on top but still had trouble making too much of a dint into the lead that stretched to 5 goals. But there were better signs. Jimmy M began to work the middle and hit targets and his composure began to spread. Al scored after a strong mark and Jayden managed one over his shoulder and the Kenna snr rev up was beginning to work its magic
The challenge for the final quarter was simple- overcome a 14 point lead kicking into the wind on a very low scoring day.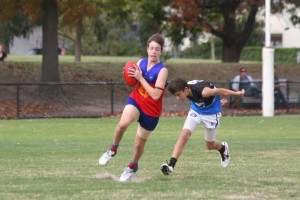 It was pretty clear from the start of the quarter that the boys were up and at it. Roy and Jimmy started it in the middle and along with James T and Mitch on his wing they formed a wall, continually pushing the ball forward. Deniz took a couple of great marks pushing hard back into packs with real courage. The ball began pinging into the forward line and finally we began to hit targets. Cooper and Jackson worked as hard as always. The Roy's had all the ball.
Eventually the effort began to pay off.After a few points some clever interplay between Max and Johnny led to Max just squeezing his shot for a goal. And then comes the time cometh the man; two quick centring kicks found Nate storming out of the goal square where he marked safely and he managed to jag one of his shots. And from there the boys just dug in and worked and controlled the ball until Johnny, who played a ripping last qtr, took the ball on the flank, loped off and calmly kicked the goal on the run to put the boys a couple of kicks ahead.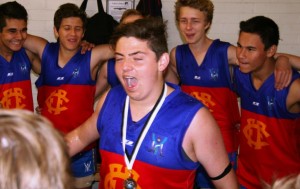 Game over and the boys were home. Relief and happiness all round. After the game the Sharks give out a medal for the best player of the opposition and Jayden deservedly was voted our best for the day.  Considering the week he had, Jayden did himself and his family proud as he always does. All out thoughts, love and sympathy go to Jayden, Kevin and the family.
So another week and another win. Bundoora again next week. They will be hungry for revenge. So go Roys!
Round 4 v St Marys Fitzroy 11.17.83 def St Marys 4.8.32
The Roy's keep the run going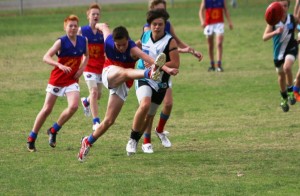 It was umpire appreciation week at St Mary's last weekend. Usually I struggle with appreciating umpires, especially after they wrongly penalize yet another Brisbane player. However, as wise beyond years son Max said- no umpires no game Dad. He is right. So thank God for that!
Back to the game. The first few minutes  saw some tough uncompromising footy, as both sides struggled to settle down. Jimmy Miller snagged the first goal after marking a Mitch kick and we were away. Deniz marked strongly and goaled. And in a lovely piece of play Mitch kicked to Kenna who showed quick hands to Jacob for a great team goal. Hugh and Lewis were providing great run and attack, and the team was beginning to hit targets. Daylon, to Alastair, to Roy to Cooper to Jayden and goal. Possibly the closest to a coast to coast goal we have produced.
The second quarter continued in the same vein. Alastair made a great second effort to get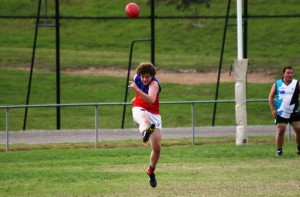 the ball to Nate who slotted on the run. James T followed up with a similar goal after constant running in waves and basically forcing the ball forward from contest to contest- great stuff. Geron showed real footy smarts to work his way through traffic. Roy was on fire and he roamed far and wide, running the lines and working hard. But St Marys are a good side and dug In with the game moving to a stalemate for a while. Eventually Eren showed initiative and great attack and got the ball to James T who kicked his second for the quarter and after Jayden capitalized from a poor kick in we had kicked away.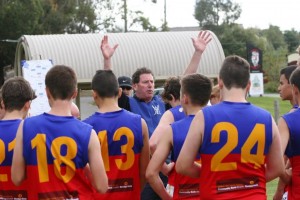 The third quarter became scrappier as the wind picked up and St Mary's tackled hard. Our defence was really under siege and Daylon, Deniz, Hugh and Ollie all shone. Not only in their effort but in their composure, and desire to help each other. Cooper goaled after a good mark and the quarter was pretty evenly split.
In the last quarter the Roy's kept the game under control. Good work in the pocket from Huddo to Jackson to Eren ended up in his first goal for the team followed up with his second- a beauty from the flank. Thereafter there was a procession of points off the back of some good running play – just couldn't capitalise on possession.
The boys are really showing great signs. Someone takes a mark and the boys spread to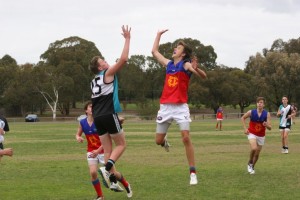 create options. There is a real sense of purpose in their play, with a focus on keeping possession , sharing the ball  and helping each other.  And their is plenty of room for improvement in kicking for goal,  and lifting their eyes to hit players in better positions . But in the end the best sign of all is that they are really coming together as a team, encouraging each other , and celebrating together with gusto.
So go Roys!
Round 3 v Banyule Fitzroy 10.12.72 def Banyule 3.9.27
The old and the new at the Roy's
It was a fast track under a grey sky at Brunswick St and the boys ground out another strong win, knocking off Banyule by 7 goals on Sunday.
The first quarter started off as a wrestle with the ball pinging between the half back lines
and scrambly, often messy play. The Roys settled first and Dean, Roy and Jackson all got loose along the stand side and began to link up and get the ball rolling. Jacob in his new role upfront,  Kenna and Jayden held the ball in the forward line and had a few shots between them with Jayden getting the opener. The boys looked like they were getting on top but there was not much in it at quarter time.
In the second quarter the game opened up a little and Banyule showed they had run and good skills. What we had was a good half back line with James T reading the play beautifully and repelling attacks. Newcomer Eren was hard at it and showed good hands and a unique but effective kicking style. Lewis, Daylon and Deniz, were all working hard keeping a tight rein on their opponents. Jimmy Miller, Dean and Jackson started running the ball and soon the pressure gave. A nice snap to Huddo, and an absolutely cracking grab and goal from Jacob got the boys up by a couple of goals at half time.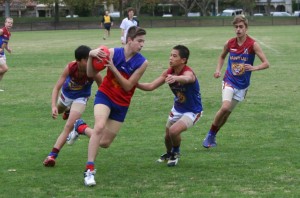 The third quarter was our best with good ball use, rugged defence, a hard running midfield and a real desire to help each other out. Wherever Banyule got two players to a contest we got three. You could hear the calling and the run from behind was critical in creating space and clean ball. Fitzroy really poured on the pressure and the goals started coming. The forward line worked hard to keep the ball in with Fergus, Kenna and Cooper all doing their bit. Jackson continued playing a blinder with an equal mix of strength and poise. Big Nate marked and goaled and the boys found themselves five goals up at three quarter time.
The last quarter was a bit of a stalemate but there were plenty of individual highlights. Twice Kester left his man to get to a fifty-fifty contest and his desperation got the team possession. Hugh ran fearlessly and time and again he pushed the ball forward. Dean was tireless and alongside Jimmy they dominated the middle with quick hands and footy-smarts.  Ollie worked as hard as anyone making contests where there weren't any.  Geron played his usual composed game despite a sore heel. Mitch got on top on his wing, and so did Roy and Alastair in the ruck. And Huddo finished it off with a banana on the siren and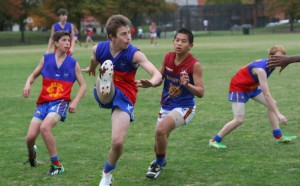 the boys were home.
During the game I had a great chat with Nick's grand-dad 'Pa' who had played on the oval back in the 50's. We were both impressed with a piece of play by the newcomer Eren after a great mark and run from the backline. I explained that it was his first footy game and Pa said that you wouldn't know it looking at him. It struck me that here was the oldest person there to play on the oval admiring the latest. The chain continues from the old to the new. It is part of what makes footy great. Especially when you have won three in a row!
Go Roys!
NB: Please excuse last week's spelling and grammatical errors- especially apologies to Jayden!
NNB: Parent of the week: Awesome goal umpiring debut by Kester's dad Chris. Style, grace under pressure and good technique!
It was one of the strangest second games of any season.
For a start we were playing the team we had played and beaten in the first round, Bundoora. It had been a tough tight game and they were out for revenge.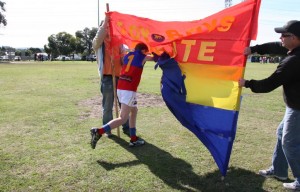 And second, we got to see one of the boys 'officially' retire – Nick Harrington.  From the time Nick announced his retirement there has been a flood of  messages of heartfelt thanks and admiration of Nick's courage , skills and selflessness.  Craig's speech before the game fuelled the fire and it became obvious that there was one clear message – that the boys owed it to Nick to see him out a winner. And they did, in a tight tense match,  on the blustery, slope of a ground that is the Telfer Reserve.
The Roys bounced out of the blocks ready to roll with all the play in the first minutes. 
Eventually forward pressure began to pay off with Huddo, Jaidyn and Cooper all kicking goals for the quarter.  The only real disappointment was the poor kicking for goals which netted 7 behinds and a few out of bounds on the full .  Learning to lower the eyes and picking  out  better options in the corridor is something the side has to work on. Despite this the constant pressure and attack at the ball was excellent and we found ourselves well ahead at quarter time.
The second quarter saw the game settling down with both sides tightening up defensively.  Bundoora's height  and stronger bodies began to tell and they worked back into the game. Over the next two quarters both sides had patches of superiority but the windy conditions and small ground meant it was often hard to make the most of possession and the game began to close up so that by the start of the last quarter there were only a couple of goals in it.  For much of the last quarter, playing into the wind the Roys actually played their best footy of the game; – Coach Kenna had asked for some possession footy and the boys gave it to him working the ball into the breeze only to fail in putting on real scoreboard  pressure as the forward line got very crowded, with Bundoora throwing much of their team behind the ball to close the game up.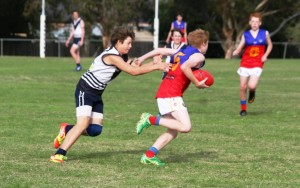 What this did mean was that when Bundoora rebounded from defence it was an open ground and many times we looked in danger of being opened up. Jimmy Miller , Roy and Geron all intercepted brilliantly, at times repelling wave after wave of  Bundoora attacks with the defence managing to repel most attacks that got through with grim determination. The key moment in the last quarter was another forward foray by the Roys, where the clever use of the ball eventually told with James T putting one through midway in the quarter to put us three goals ahead.
The last 5 minutes really stretched out with Bundoora bombing into the forward line. A desperate defence lead by Daylon and Lewis, and the hard-at-it Kester and Jacob, really dug in and held off attack after attack. It was only in the last couple of minutes that Bundoora got two goals to make it close , but the boys held on well with the second of those goals right on the siren.
SO a good win overall with the whole team genuinely contributing. Jaidyn hit the ground running and was great in the first half especially. Jimmy and John Mac played clever composed footy through the middle.  Mitch was his competitive self on the wing and time and again proved to be the link into attack. Roy was tireless in the ruck and became a strong linkman. Cooper and Jackson were both strong contributors and are welcome additions as players and competitors. But in the end everyone did their bit and ran hard and they were a tired bunch of boys after the game.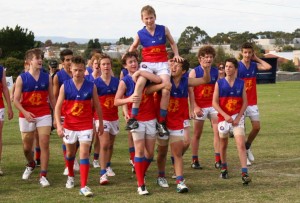 But not too tired to chair Nick of the ground after the match. You don't often see that after the second game of the season either but if anyone deserved it, it was Nick. And the theme song in the rooms was a cracker
So thanks Nick , and Go ROYS!
Round 1 v Bundoora Fitzroy 11.10.76 def Bundoora 9.8.62