Match report (round one: Fitzroy Lions v North Brunswick Giants)
It's that time of the year again and the inaugural Fitzroy Tackers team was raring to go for its first match of the season against the North Brunswick Giants.
Many of our players were up at first light on a fantastic day for one of the most important games of the year.
After a rousing run from the clubrooms to the field, the Lions won the toss and the Roys were kicking to the city end.
At the first bounce, there was great teamwork by Josh Mercuri and Barnaby Williams, who launched a searching attack into the Lions' forward line.
After peppering the points, Leo Sekhon kicked a history-making goal, the first ever by a Fitzroy Tackers player (much to the cheer of parents and players alike). And when Jake Day took a great mark, passed to Samuel Rusjan who then passed to Leo, Leo and the Lions had their second goal of the day.
In the second quarter, the Roys had a new defence as players rotated to their next position. The North Brunswick Giants started the term well, taking the ball out of the centre and quickly moving it forward, only to be stopped by a great mark by Willem van den Enden and the defensive run of the lightning-quick Oscar Allen.
The Roys soon had their third goal for the game and were sharing the ball well.
After the main break, an exciting chain of handballs led to another goal for the Lions. North Brunswick counter-attacked and also played the game with great spirit.
During the third-quarter break the team re-grouped, and the coaches talked about doing your best … while the boys munched on snakes in readiness for the final quarter.
As the Roys raced out for the final quarter, there was excitement in the air.
Again, there was some great teamwork and tackling, and the Roys added another goal, meaning they scored majors in each term.
The Roys played a great team game with solid defending and exciting run. After congratulating the North Brunswick Giants, and receiving a rousing talk from the team coaches, the Roys marched off arm-in-arm, looking forward to their round two clash.
Thanks to all the players, coaching staff, umpires, parents and supporters who made the game a great success!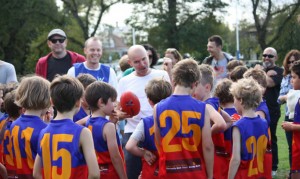 Team talk for the Roys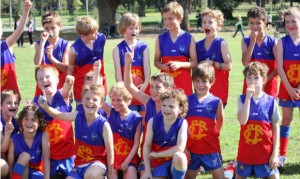 Great game for the Roys