Welcome to the U12 (Red) team page for 2013
 Contacts
Coach: Ian Nunn: 0400 487 980

Team Manager: Richard Greig: 0407 704 034

Assistant Coach

 Our Training
Thursdays 4:00pm until 5:30pm, at Alfred Crescent
 Our Players
#1 Hamish L        #12 Lloyd
#2 Sadie               #13 Henry D
#3 Matthew         #14 Patrick
#4 Clement          #15 Charlie
#5 Dylan               #17 Joshua
#6 Darcy               #20 Timothy
#7 Evan                 #21 Conor
#8 Kolya               #23 Jamil
#9 Henry N          #24 Myles
#10 Hamish M     #25 Harrison
#11 Aiden

 Our Fixture
You can see our YJFL fixture and results at YJFL Under 12 Red.
Home games – Blue shorts. Away games – White shorts.

 Snakes and Oranges roster for the final 2 weeks of Home & Away
28 July Oranges Matthew, Snakes Dylan
4 August Oranges Kolya, Snakes Lloyd
News
Round 13:  Victory!  
Fitzroy 3  3.4.22 d Heidelberg Y 1.2.8
Match Report By Xavier
What a game! It was worth braving the cold to watch the great spectacle put on by our players at Warringal Park against the mighty Heidelberg.
It all happened in the first quarter, with all of our goals being scored by Lloyd, Harrison and Darcy. It was a great quarter, such that it will go down in the team's folklore. During the next three quarters, our players knuckled down to defend, with a great defence put on by our backline, and an excellent push forward to prevent the opposition from scoring put on by our centre and forward line. Marking, shepherding and tackling were excellent as was the never-ending pressure on the opposition in our forward line. Overall, an outstanding effort by our players, keep it up and victories will be aplenty.
The final score:  Fitzroy  3.4.22 d Heidelberg Y 1.2.8
Photos from the match can be viewed here!  Thanks Andrew.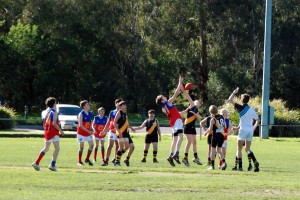 Indigenous Round – 26 May v Brunswick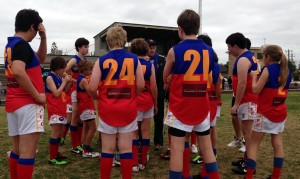 Some more photos taken at the Indigenous Round match Fitzroy vs Brunswick can be viewed here
Round 11:  Fitzroy 3 v Richmond
It was a tough match against quality opposition, but to their credit the team kept their heads up and fought it out to the end.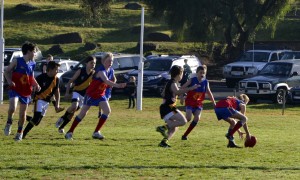 More of Lorna's photos from the match can be viewed here  Go Roys!
Match Report Round 9:  Fitzroy 3 v St. Marys
By Xavier
At Ramsden St Oval the sun shone, the ground was wet but firm and expectations were high as a result of the continuing improvements shown since the start of the year. St Marys were ready for us and took control early with most of the First Quarter play in our backline. We got forward at the end of the quarter and Tim got a goal to keep us close. Our defence tightened in a close second quarter with Aiden scoring a goal to keep the scoreline close at the half. St Marys showed us the second half that they have clearly improved during the season as well, keeping in front, controlling possession, passing and working as team. They played the game we can play when at our best, and reminded us we need to bring our best to win. So keep learning from the losses, bring our best game and the sun will be shining on a Fitzroy victory.
Photos from this round can be viewed here
Match Report Round 8:  Canterbury v Fitzroy 3
By Chas & Patch
It was a very close match considering it was the top team vs. the bottom team and last time they played us it was a very one sided game. Canterbury were held to 2 goals 3 points in the first quarter, and were scoreless in the second quarter. Our coach Ian was very supportive even though we hadn't scored in the first half. Canterbury then scored a few points in the third quarter and we stayed strong and remained focused which led to a great goal. We played very well throughout the rest of the game but a goal slipped through at the end of the last quarter. We had a very strong defence and wouldn't let them get past us. All in all we played probably our best game all season. This team has really come together since our first match and we are getting better every week. We think this will be a fantastic season. The final score was 28 (Canterbury) to 8 (Fitzroy).
Photos from the match are available here   Thanks Lorna!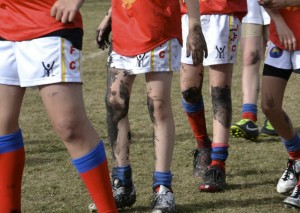 Match Report Round 7:  Brunswick v Fitzroy 3
By Xavier
Excellent job by all players of Fitzroy!  We almost had them even though we were down on players – together you put on a terrific performance. Well done to our goal kickers Tim (3), Patch (2), and Harrison (1). The attack was consistent thanks to great efforts by Matthew, Kolya and Darcy.  Defence was held by Myles, Charlie and later by Jamil.  Conor seemed to be at the contest all over the ground as were Evan, Sadie, Darcy and Lloyd (hope you are feeling better.) Great contests by Clem, Hamish, Hamish and Henry were seen. Keep up the good efforts and hopefully the song will be sung again soon!