Match report (Round 4: Fitzroy vs. Parkside W)
Barnaby Williams was the captain of the day.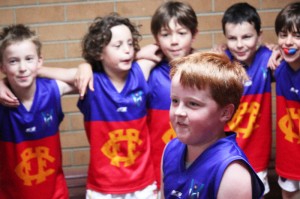 1st Q: MIDFIELD: Jai Hedger, Oscar Allen, Mischa Thackeray, Josh Hornsby, Alex Carberry, Kai Hughes, Isaac Carter
With great handballs and team play Fitzroy made a good start for the first quarter of the game against Parkside West.  Other highlights of the first quarter were significantly more talking  when pressured in front of goal and under attack from Parkside West's defence.
2ndQ: MIDFIELD: Samuel Rusjan, Dash Spencer-White, Archie Noakes, Tom Miletto, Felix Creswell-White, Barnaby Williams
As the siren sounded the Roys were quick off the mark to the forward line with great kicking by Samuel and Barnaby to continue to drive the ball into the forward line.  Great passages of play continued for the Roys with Cam and Hamish congratulating the boys on improved handballs, speed and passages of play at half time.
3rdQ: MIDFIELD: Finlay Park, Lloyd Fitzgerald, Willem van den Enden, Leo Sekhon, Josh Mercuri, Tom Dolkas
The third quarter cemented the good work of the Roys with some great taps in the ruck to Finlay, Dash, Tom and Josh who quickly raced forward with the ball to put Parkside West's defence under pressure.  A stellar goal by Barnaby was a great way to celebrate his captaincy for the day.  The coaches congratulated the Roys on some of the best team work  of the year!
4thQ: MIDFIELD: Chris Barnes, Harry Broderick, Torren Arthur, Koen Tremschnig, Jacob Day, Hector McLean
With the 4th quarter upon us the Roys continued the good work of the day with some spirited defence by Willem and Jacob to convert to some great work in front of goals by Felix.  The Roys patiently chose the best option in front of goal with special mention going to Isaac who played on the ball for all 3 quarters.
Quote of the day: 'Whats going on with the Oranges!'