Welcome to the Under-12 Red team page – Premiership winners for 2014. Go Roys!
 Contacts
Coach: Ken Seakins - jokens@iprimus.com.au; 0413 355 401
Assistant Coach: Alistair Nairn – alnairn@yahoo.com; 0447 267 690
Team Manager: Simon Loftus – loftus@vicbar.com.au; 0402 325 833
Please email Rachel (Griffin N's mum) with contributions/feedback for this page
 News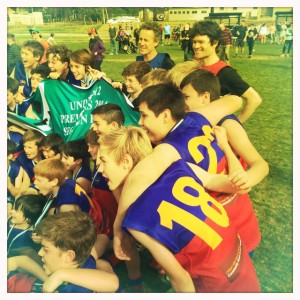 WE WON!!
Fitzroy Under 12-Reds are the Premiership winners for 2014! What started as a nail-biter in very windy conditions became an assured performance from our incredible team of talented boys. The final score for our Grand Final match was Fitzroy 5.5-35 to St Damians 1.0-6. Well done to everyone – especially our wonderful coaches.
Of the seven YJFL teams who played in the Grand Finals yesterday, five won their games. An amazing achievement for the club.
Presentation Day – September 7, 2014
Our team's trophy presentation will occur on September 7 at 3.30pm-3.55pm at Edinburgh Gardens. Don't be late – we don't want anyone to miss out.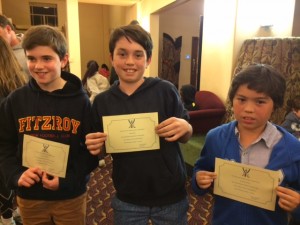 Congratulations are in order for our team, who secured a high percentage (over two-thirds) of all possible Best & Fairest votes for the U12 Red division. James, Antho and Griffin N were invited to the YJFL Presentation Night, but while most teams had a few standout players who dominated their team's vote count, the votes for our team were spread widely, proving what a high standard of player we've got across the board.
 Photos
Here are the fabulous photos of our Grand Final match – enjoy the glory!
Check out all the action from the team's previous games on our flickr page.
(Pics: Craig Ross/Simon Loftus/Rachel Power/Alistair Nairn/Sally Wilcox)
Our Players
#1 Thomas Noonan
#2 Anthony Johnson
#3 John Loftus
#4 Sam Doyle
#5 Marcus Viney
#6 Lachlan McAlpine
#7 Hayden Bant
#8 Ben Fosbrooke
#9 Flynn Crews Ferguson
#10 Dimitri Syrbopoulos
#11 Alexander Salzer
#12 Griffin Nairn
#13 James Connelly
#14 Gus Quealy
#15 Mackenzie Crameri
#16 Archie Skinner
#17 Rhys Seakins
#18 Ben Hedger
#19 John Allen
#20 Rex Richardson
#21 Cameron Ross
#22 Alexander Avraam-Stoilkovski
#23 Rinchen Dorjee
#24 Griffin Simpson-Tuckey
#25 Charlie Raymond
#27 William McBride
#28 Ky Gisbourne
Roys Club Song
(to the tune of "La Marseilles")
We are the boys from old Fitzroy
We wear the colours maroon and blue
We will always fight for victory
We will always see it through
Win or lose we do or die
In defeat we'll always try
Fitzroy, Fitzroy
The Club we hold so dear
Premiers we'll be this year.
Go Roys!