Hello and WELCOME to the U/10 Red home page!
Please visit regularly to keep up-to-date with what is happening with out team!
 Contacts
Coach: John Ramshaw 0409 133 432
Assistant Coaches: Lance McKain 0410 494 196;   Paul Winstanley 0417 145 167
Team Manager: Sean Irwin 0417 059 661
 Training
Every Wednesday afternoon at Ramsden St Oval – 4pm – 5.30pm

 Fixtures & Results
Congratulations to the WHOLE team on a fantastic match in Round 4! Great teamwork, great enthusiasm, great skills – you deserved every little bit of the happiness you shared after the game! WELL DONE!!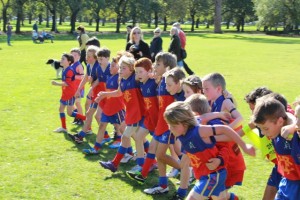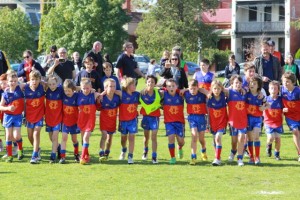 (pics with thanks to Rob Oldfield)
ROUND 6
Well – another stirring performance in Rd 6! A big first half set up the game, and the boys fought valiantly to hang on in a nail-biting finish to win by one point against a gallant Glen Iris. Congratulations team – let's keep the momentum going!
ROUND 7
In trying conditions, both Fitzroy & Ivanhoe put up a solid game of footy whilst recognising the importance of what the Indigenous Round stood for, and the match was played in accordance to the traits of Endurance, Tenacity, Courage, Loyalty and Pride.
And congratulations to Kyle (FJFC) & Victoria (Ivanhoe) for being awarded the Indigenous Round medals.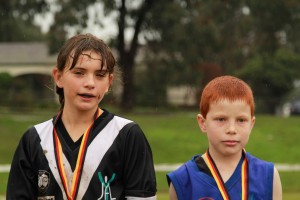 ROUND 13
Well – another thriller against Glen Iris, and another 1 point win. What an exciting game, with the Roys down by 1 point at 3/4 time after a brilliant 3rd quarter by both sides, the match became a dour affair. The U/10 Red Roys never gave up, keeping Glen Iris scoreless in the last whilst kicking 2 very important behinds to sneak over the line – and wasn't the club song sung with gusto in the rooms afterwards! Congratulations on a great team effort!!
 News
What a fantastic visit from NAB Rising Star & former FJFC player Dylan Buckley at training on Wednesday (23/4) – great to hear Dylan recall his days at Fitzroy, and give some terrific advice (and then kick a clutch goal against the Eagles on the weekend!) See the story on the main FJFC page…
Thanks to everyone who came to the FJFC Trivia/Idol night – a great time had by all! And congratulations on a fabulous Idol performance by 2 of our parents – Pete & Kate – who burnt down the house, and came a very close second!
The club has secured the Fitzroy Bowls Club (just behind the Brunswick St Oval) on Sundays from 5pm for the remainder of the season – it would be great to see as many of the players & families as possible rock up and have a drink & catch-up with the other teams – food will be available, too!
 THIS WEEK:
Rd 15 – August 10th: Fitzroy vs St Marys at A.K. Line Reserve (Grimshaw St Bundoora – Mel Ref 20 F2) -  game time: 10am- please be there by 9.15am- Away game = White shorts.
Would be great to see as many players/parents as possible back at the Bowling Club afterwards (5-9pm) to celebrate a fantastic season!
And remember – no mouthguard, no play!

 GO ROYS!