Contacts
Coach: Robbie McKenzie – 0408 421 423
Assistant Coaches: Cam Doyle – 0414 659 759
Team Manager: Ian Campbell – 0434 573 870
 Training
Wednesdays – Ramsden Street Oval – 4.00-6.00pm
Fridays – Victoria Park (Collingwood) – 4.30-6.00pm
Please wear mouthguards to training
 News
 This week
A special event for this round – the U12 Gold team are playing the curtain raiser match for Friday Night's Indigenous Round.
Round 7 (Friday  30th May) – Home Game vs. Beverly Hills
5.30pm at Victoria Park Collingwood
Please be at the ground by 4.45pm.
Blue Shorts must be worn.

Team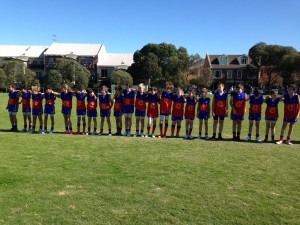 Angus Campbell
Ben Moore
Jacob Clarke
James Ercolano
Finn Hall
Naish Farrell
Max Doyle
Sam Doyle
Toby Stafford
Harry Buttifant
Cedric Gauder
Heath Ramshaw
Michael Evans
Kai McMahon
Oscar Bruzzaniti
Cristian Perazzola
Sam Ackland-Evans
Connor Irwin
Ellie McKenzie
Finn Oliver
Marc Theodore
Tom Proimos
Josh Watson
Rupert Rush
Luke Williams

 Go Roys