Contacts
Coaches: Richard Grummet & George McEncroe
Assistant Coaches: Graeme & Phil 
Team Manager: Pam Roberts
 Training
Monday 4:30pm, Victoria Park, Collingwood (MAP)
Friday 4:30pm, Ramsden Street, Clifton Hill (MAP)
 Past games
Round 15
| | |
| --- | --- |
| Warrandyte | 14.16.100 |
| Fitzroy | 3.5.23 |
Round 14
| | |
| --- | --- |
| Ivanhoe B | 14.19.103 |
| Fitzroy | 1.10.16 |
Round 13
| | |
| --- | --- |
| Fitzroy | 5.5.35 |
| St Marys K | 5.10.40 |
Round 11
| | |
| --- | --- |
| Ashburton | 11.12.78 |
| Fitzroy | 8.10.58 |
Round 10
| | |
| --- | --- |
| Fitzroy | 1.4.10 |
| St Damians R | 17.35.137 |
The boys are to be commended for their gutsy efforts on Sunday. The courage displayed by Otto on the bottom of a scrum, Sean running onto a very wet ball, Henry chasing a St Damian's giant down the ground and Declan fighting a relentless barrage at full back, are images that will linger for all of us who shivered on the sidelines.
Our mid field slogged it out ferociously, upping the pressure and miraculously finding energy as the game wore on. Stephen, Vincent, Leon, Kibby and Antonio did themselves and the club proud.
All the boys lifted, impressing the St Damians coach, who awarded Declan Best on Ground.
A big thanks to Liam, Gracie and Tom who joined our team after playing a very tough match in under 14s.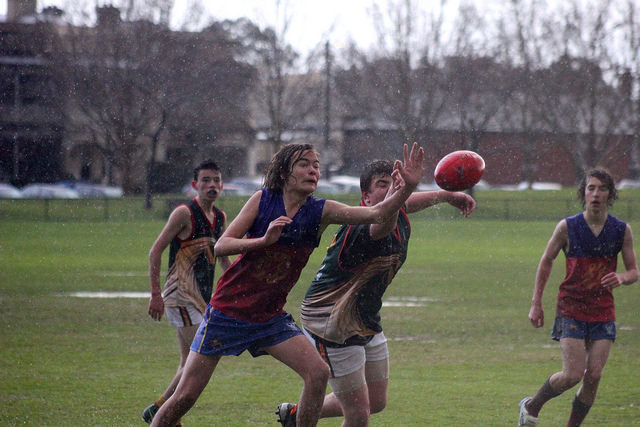 Round 9
| | |
| --- | --- |
| Camberwell 2 | 17.20.122 |
| Fitzroy | 7.6.48 |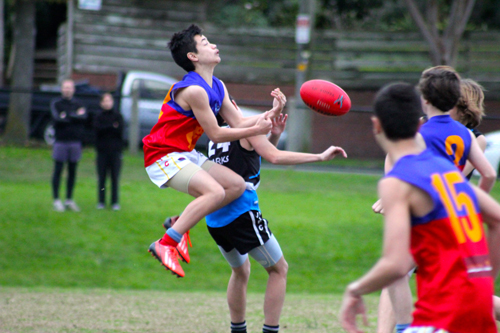 Round 8
| | |
| --- | --- |
| Fitzroy | 4.5.29 |
| Warrandyte | 13.14.92 |
We gave Warrandyte a fright on Sunday and have certainly shown considerable improvements. Saro valiantly soldiered on with a sore back and we had great strength in the middle with Stephen leading the ruck and the team throughout the match. Vincent, Antonio and Leon D were relentless in their attack on the footy. Alec, Declan, Spencer and Henry were on top of their opponents and absolutely accountable. Well done. Every last one of the team made a contribution. Some in the air like Hugh, some making space like Tyler and Joe, some in and under like Otto.
And what a fabulous debut from Kibrom!!!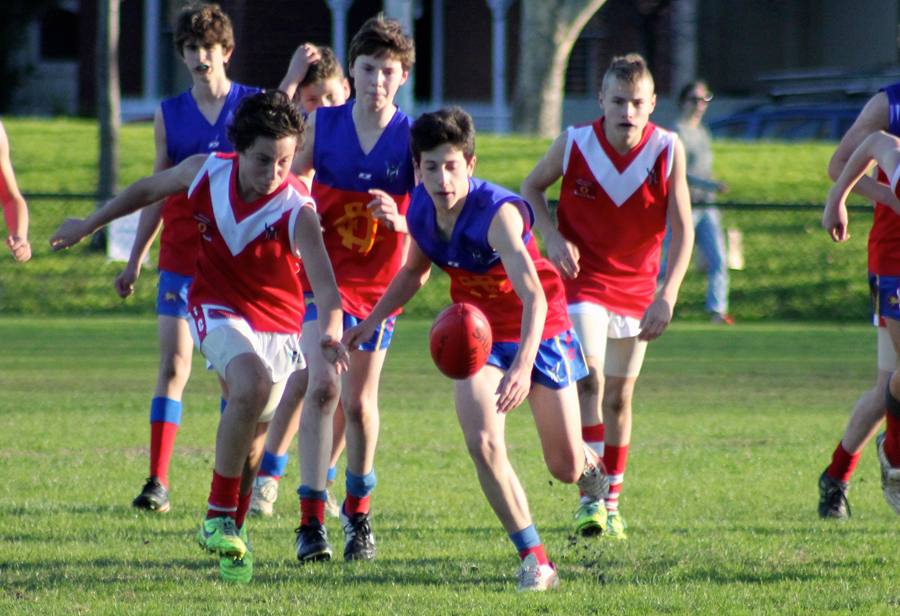 Round 7
| | |
| --- | --- |
| Fitzroy | 2.3.15 |
| Ivanhoe B | 11.13.79 |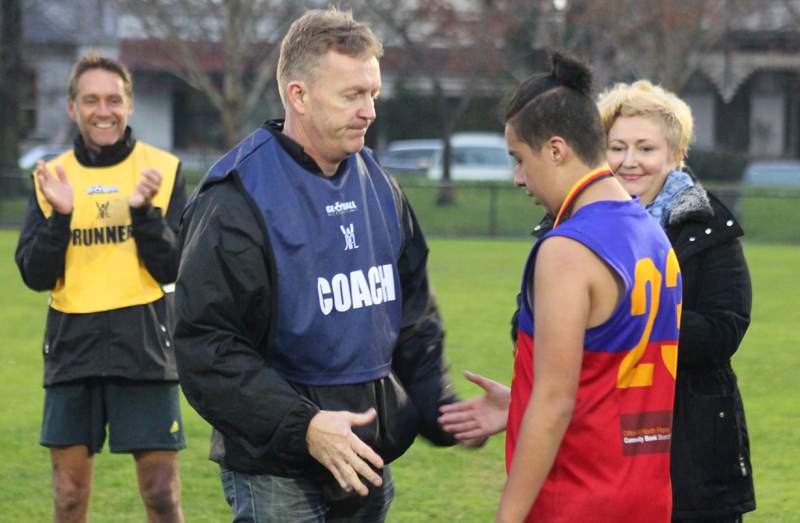 Congratulations to Antonio for receiving the Indigenous Round medal, awarded by the opposition coach,  for this game. A tough match in dark and wet conditions!
Round 6
| | |
| --- | --- |
| St Marys K | 6.7.43 |
| Fitzroy | 6.9.45 |
The 1st quarter began with St. Mary's a little too impressive in their forward line but thanks to our stout defence led by the ever-reliable Declan we largely held them out. Robbie N. too laid on a ripper of a tackle at a crucial stage near CHB to deny them what may have been an easy goal. Almost against the run of play it looked like Saro who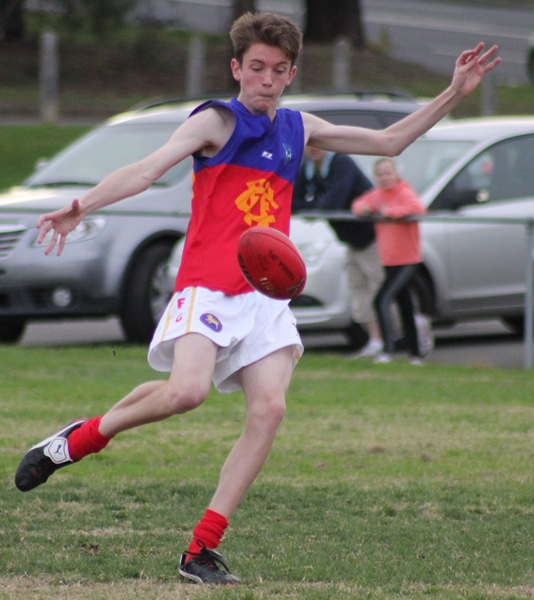 dobbed a great major at the uphill end of AK Line shortly followed by one by Joey who slotted it in convincing Eddie Betts fashion, something he's been promising to do for a couple of weeks. Some of our passing, particularly between Vinnie and Antonio and Saro and big Steve was setting a high standard early.
In the 2nd quarter, the Royboys did most of the attacking with big Louis coming into the game with his strong marking and ominous U-turns. "Returned soldier" Sean Foley also goaled as we often ran the ball quickly into an open forward line in exciting fashion. Our mystery guest speaker, who had much to do with the YJFL's Upcoming Indigenous Round, spoke again at half-time having told seemingly irrelevant stories about the actor Jack Charles, amongst other things , before the game. But such was their rapt attention and his wisdom and guile that he had himself played no small part in us leading by 5 goals to 1 as he regaled us in the rooms in a manner that the loveable Royboy rogue writer Barry Dickins would have revelled in.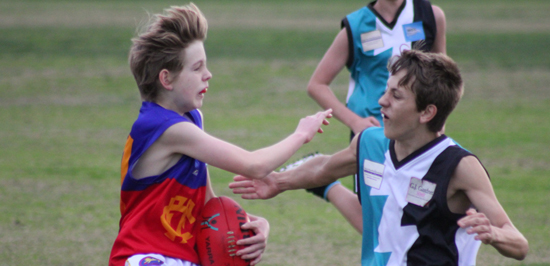 In the 3rd quarter we initially defended desperately for over 10 minutes before letting in two late goals but failed to make St. Mary's pay because up the other end we hit the post and Tyler after a great run into an open goal missed – mainly because no-one demanded he keep on going all the way.
The final stanza was an absolute arm-wrestle with dubious free kicks being paid in both forward lines. With three goals and not all of them easy, St. Mary's crept to within two points and it seemed their momentum and typically vocal crowd would carry them over the line. Certainly the stage was set for a classic potential Dickins (Barry or Charles) tragedy.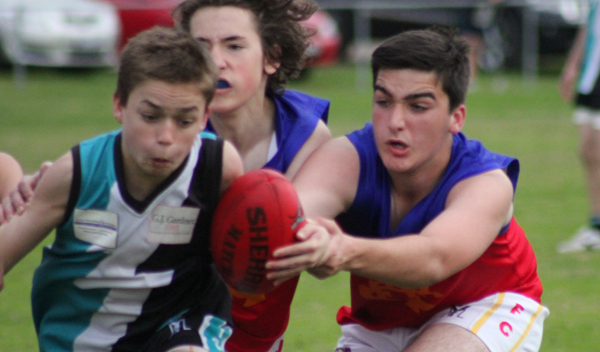 With 30 seconds left on the clock Raddy went down injured. In the confusion another team-mate was sent off because of the blood rule. Suffice to say that both reinforcements were hurtled down the field to the backline as play resumed. One final snap by St. Mary's must have come very close to registering a major but the umpire – God Bless him – only raised one finger.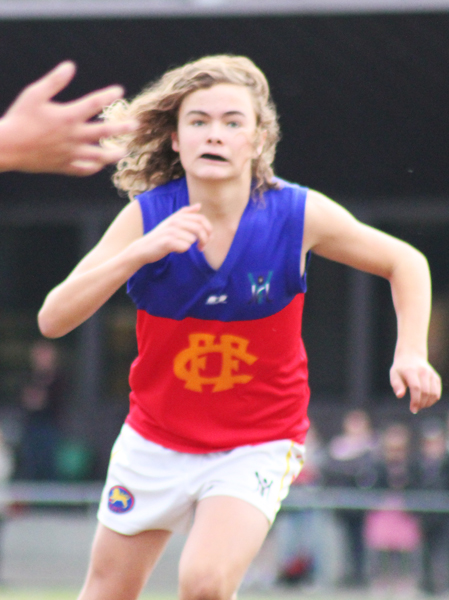 Moments later the siren sounded to end one of the tensest of climaxes and in Round 6 the Royboys finally got their chance to belt out that great song both on and off the field.
Afterwards George generously focussed on a wide range of individual highlights including those of staunch defenders like Spencer and an amazing 100 metre solo run, bounce and carry in the 3rd quarter by Henry Virgo. The coach pondered how Leon Di Vane could have a quiet first quarter followed by a super-elusive second half and somewhere along the line Phil had a if not the final word.
Round 5 (BYE)
Round 4
| | |
| --- | --- |
| Fitzroy | 3.4.22 |
| GDU Demons | 11.14.80 |
As evidenced by the crowd's positive vocal response at half-time, there was more desire and passion on display in last Sunday's Fitzroy 3 performance on the Brunswick Street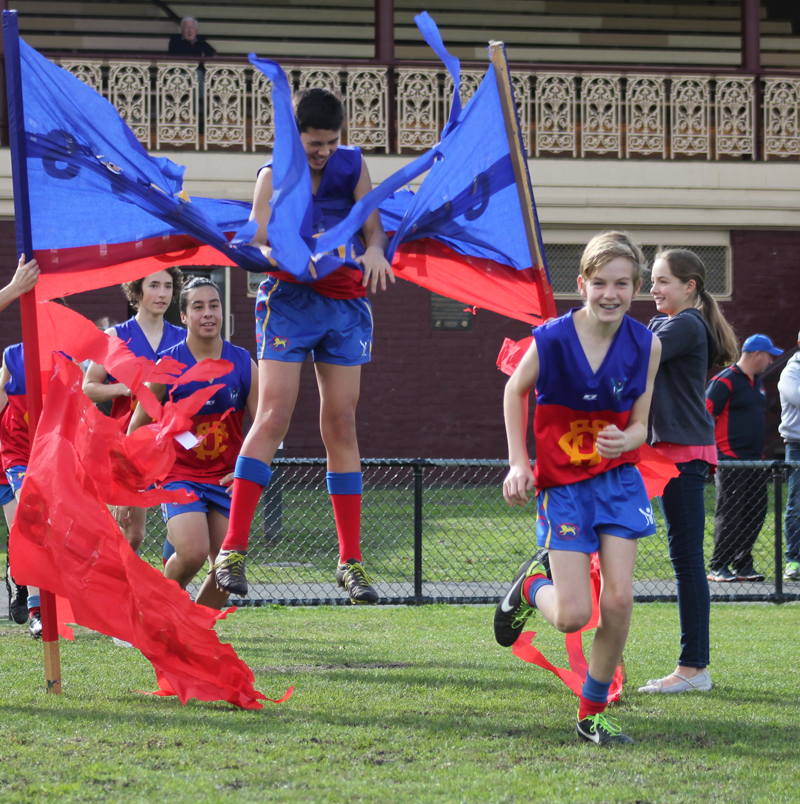 Oval against the GDU Demons.
Although goalless in the first quarter of the celebration of Alec Webster's 100th game, we certainly had the ball down forward enough to score and there was enough pressure down back led by Spencer and Leon "kick-it-out-again" Howard to lead to the Demons producing a flurry of behinds. Some of our work to clear the ball from kick-outs was excellent with timely leads and marks from Antonio and big Steve. There was also an exciting run by Louis McGlade into the forward line which ultimately went unrewarded.
In the second quarter kicking to the eastern end we did nearly all the attacking and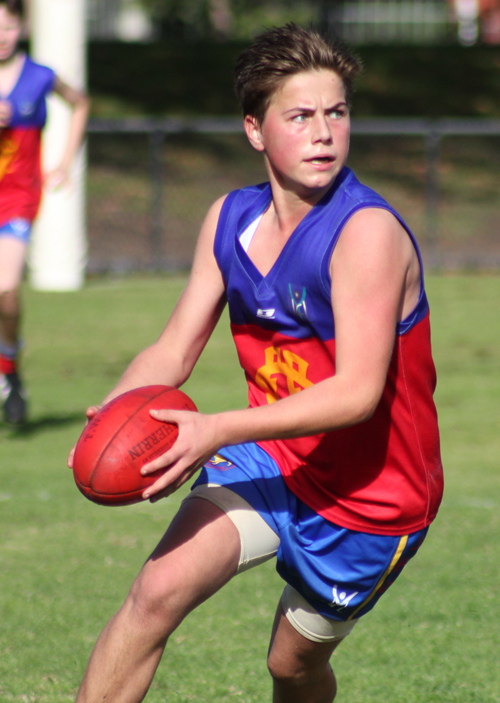 Vincent and Louis D H put the icing on the cake with 2 great goals from close range. Declan was following up from last week with more great defensive work and Andrew L. and Saro were getting their fair share of the ball around the centre. Such was the endeavour shown by the boys that even the ghosts of past supporters seemed to give the boys a stirring reception as they left the ground at half-time.
We continued on in the same vein after half-time with big Steve, Louis and others taking more marks than  we had all season. Vincent continued his frenetic tackling but unfortunately big Steve went down with an ankle injury. Nevertheless some of our linking passages of play were a real improvement and impressive considering our opponents had beaten St. Damian's earlier in the season. Another highlight of the third quarter was Henry bravely going into the ruck on Steve's behalf and soon laying a great tackle in defence.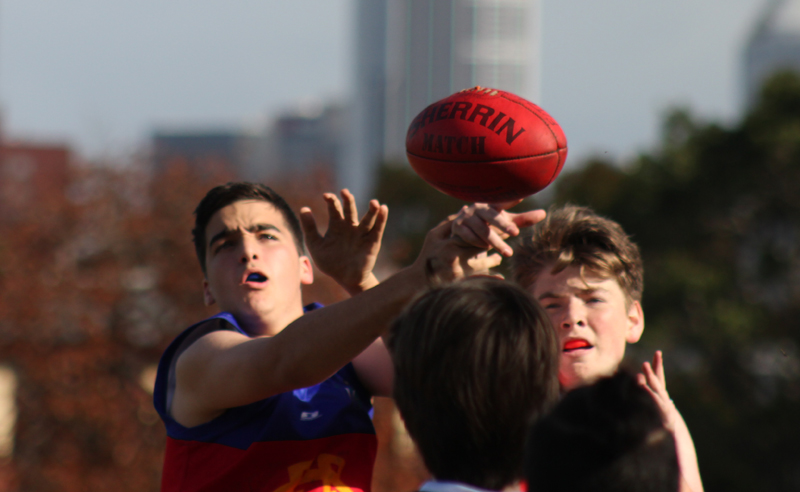 We soldiered on in the last quarter well, limiting the Demons to only 11 goals overall whilst Louis D H deservedly goaled after laying a great tackle .
Only 3 goals overall for the Royboys but we are clearly improving in terms of ball movement and desperation.
Round 3
| | |
| --- | --- |
| St Damiens | 16.21.117 |
| Fitzroy | 0.8.8 |
As one parent and shrewd judge observed last Sunday, the final scores did not really reflect the effort put in by the spirited Royboys, especially in the 2nd quarter when we had much of the play and kicked long into our open forward line. Despite many boys
peppering the goals, we only mustered 6 behinds  – but it could easily have been 3 or 4 goals.
Big Louis Hanna was often the target again up forward and Joey was often in the right spot at the fall of the ball – but it was slippery. Captain for the day Hugh R-S was on the ball and bobbing up all over the place especially in the first and third quarters when St. Damian's were doing a lot of the attacking and Leon H., who knows how to judge a mark well, needed help down back.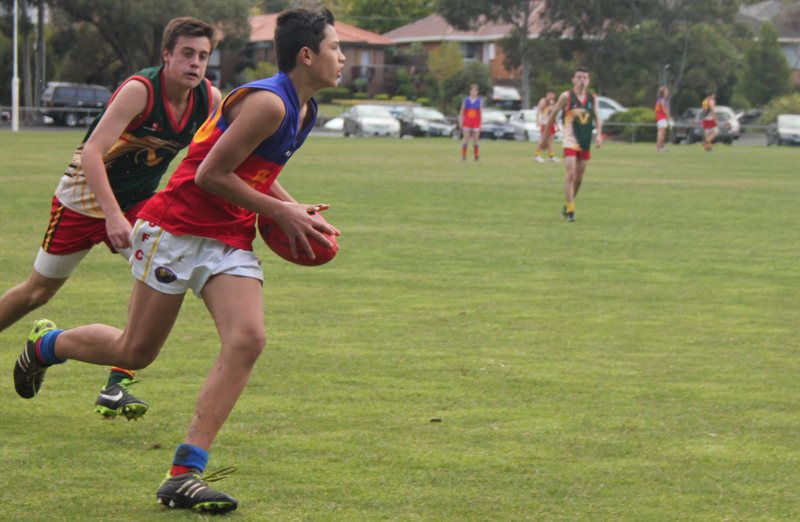 The 3rd quarter saw St. Damian's assert themselves again on the scoreboard despite the brave efforts of players like Spencer and the ubiquitous Vincent who was playing a great game.Jack and Robby showed that they could deftly and precisely deliver the ball to team-mates and Louis McGlade very nearly snapped a great goal.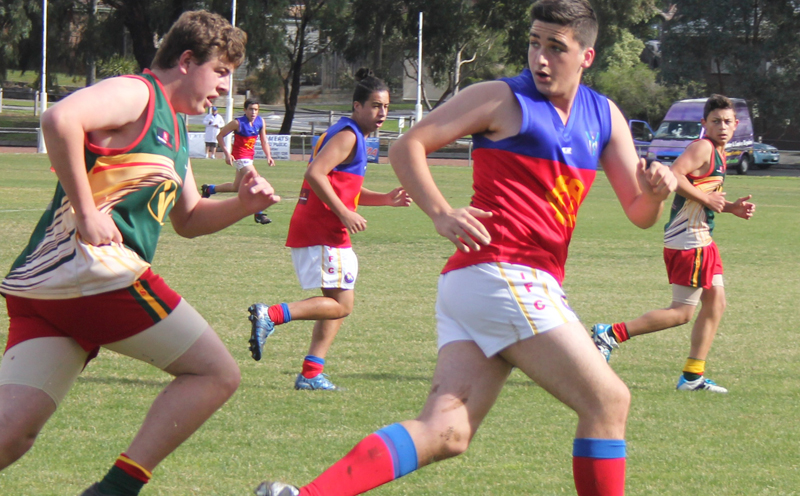 Steve Marangos put in his usual lion-hearted effort in the ruck while Declan wore his opponents like a glove and his fierce defence set a great example.
Round 2
| | |
| --- | --- |
| Fitzroy | 5.5.35 |
| Camberwell | 17.8.110 |
The Under 15-3 dreamteam began their 1st home game with high hopes knowing that Camberwell had only kicked 1 goal last game. Unfortunately, they had gone on a serious

recruiting blitz in the last 3 weeks. So, after our impressive early centre clearance work led by captain Steve Marangos and his array of loyal midfielders, which led to the Royboys confidently scoring the 1st goal and behind , the Sharks began to assert themselves. Despite the best efforts of the backline with Leon and Spencer in the key positions, Camberwell gave us the slip and put on 5 goals.
The 2nd qtr was much better as we swung Raddy into defence as suggested by George where he proved to be a dashing defender. Up forward our smaller , nippy forwards were making the most of their chances. Jo and Finn threaded thru 2 great goals while an amazing long weaving run by Louis Hanna almost resulted in a stunning goal. Had he finished his great work both sides would have had 3 goals for the qtr.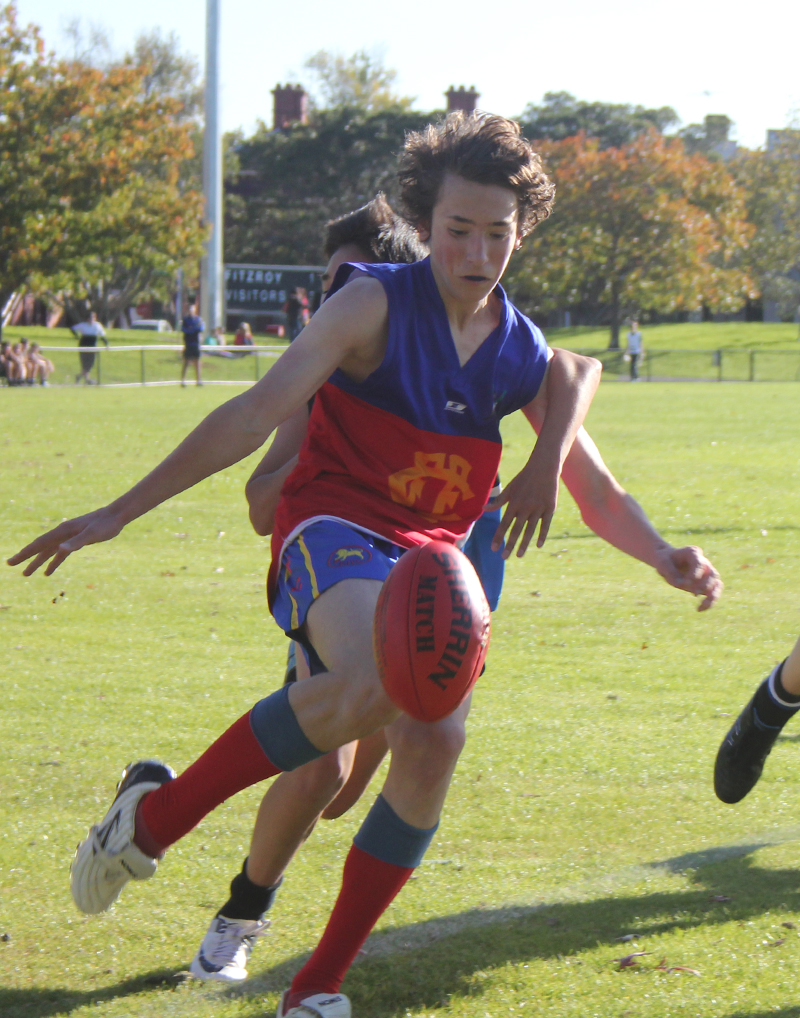 For 10 minutes in the 3rd qtr we dominated play showing much more desire than Camberwell. A goal and several near misses ensued for us but the Sharks added a few late goals to win the qtr.
In the last qtr Raddy was swung onto the ball and kicked the goal of the day by running and bouncing from the centre of the ground before slotting a fantastic major which had the whole crowd roaring. However, Camberwell weren't finished and piled on a few more goals while our prime movers, Wattsy, Leon D and Vincent rested on the bench.
There was not much wrong with our attitude for much of the game against a bigger, better marking side. There were several times when we came so close to scoring several more goals and reaching our target of 8. If anything we over-used handball at times and need to kick a bit more accurately more often as well as time our spoils more frequently from behind.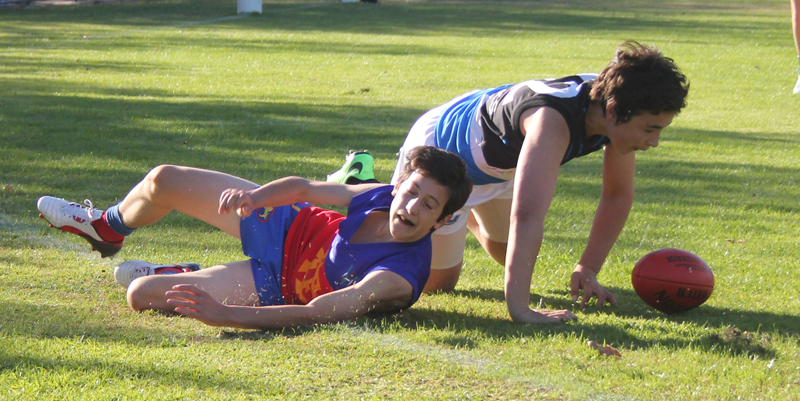 Other players who stood out on the day included Declan with his tackling, Jo with his spirited chasing, Saro with his strong chest-marking in defence and Andrew L. with his drive and powerful voice.
Round 1
| | |
| --- | --- |
| Warrandyte | 16.17.113 |
| Fitzroy | 4.9.33 |