Playing at Fitzroy Junior Football Club
To ensure that your child has a happy and safe time at the club, please read the following information.
Conduct
The FJFC aims to be a model club and we stress the need for good conduct by everyone - players, officials, parents etc - please read the codes of conduct which applies to coaches, players, parents and spectators of both the Yarra Junior Football League and the Fitzroy Junior Football League.
Yarra Junior Football League Code of Conduct
Fitzroy Junior Football Club Code of Conduct - Coaches
Fitzroy Junior Football Club Code of Conduct - Players and Parents
Safety

The FJFC wants footy played as safely as possible. Please read the Safety Information for players >>>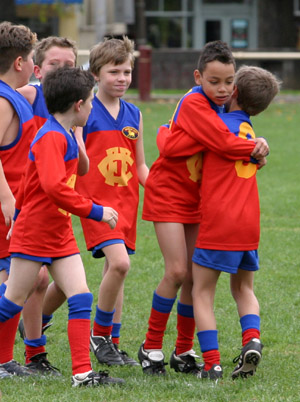 When to arrive on game day
Parents must ensure that players arrive at the playing oval at least 40 minutes before the game is scheduled to start. This allows players time to sign forms, receive coaching instructions, warm-up, and prepare for the game.
Wear a mouthguard!
Don't risk it - All players should wear a mouthguard.
What colour shorts?
... Home games - royal blue shorts
... Away games - white shorts
No smoking, no alcohol
Smoking or drinking alcohol by any parent of a Fitzroy Junior Football Club player at any scheduled match (home or away) is strictly prohibited. Details here
The drinking of alcohol can result in fines, the loss of premiership points, disqualification of players, teams or clubs.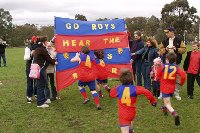 How to Help out on Match Day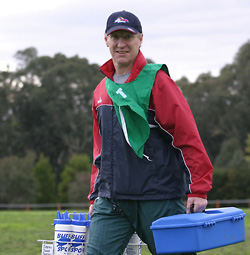 There are many thing that need to be done on Game Day and we need you to help out. The kids will appreciate it and so will other parents.
Here are the Match Day Duties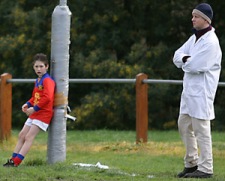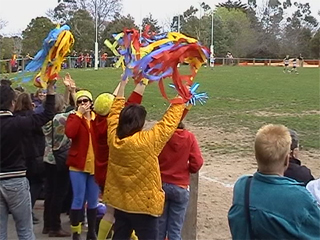 It's not about sheep stations - it's a game!
It's important to remember this now and at all times.
Let's keep junior sport in perspective. The FJFC is about fun, fitness and participation. It's not about winning at all costs.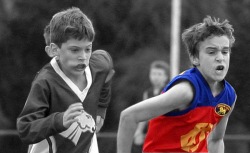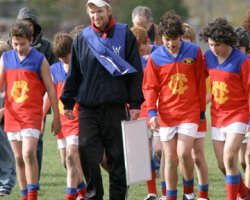 Information about Auskick
AFL Auskick is an introduction to Australian Rules football. The program is based on a weekly coaching program that focuses on teaching the skills and the game through appropriately modified activities and rules. The emphasis is on providing a fun and safe environment for both kids and parents.
Fitzroy hosts an Auskick program at Brunswick Street on Saturday mornings. For more information about the Auskick program visit the Auskick homepage.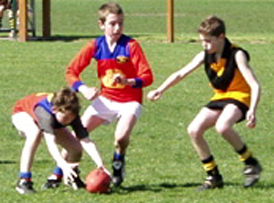 YJFL Ground Locations
Can't find the ground you're meant to go to? For the ground location list, click here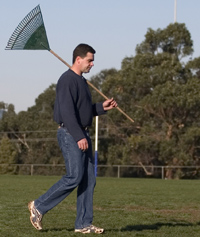 FJFC Ground Locations
W.T. Peterson Community Oval, Brunswick Street, Nth Fitzroy
(Melways ref. 2C C2)
Ramsden Reserve, Ramsden Street, Clifton Hill
(Melways ref. 2D C3)
Kevin Bartlett Sporting Complex, Yarra Boulevard, Richmond
(Melways ref. 59 A1)
School Oval, Alfred Crescent, North Fitzroy
(Melways ref. 30 B12)