Contacts

Coach - Graham Jorgensen

Assistant - Paul Broderick

Team Manager - Lesley Dredge

News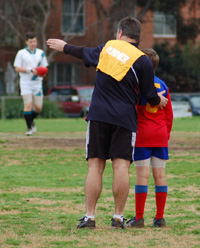 Congratulations to all involved during the season. A terrific effort by so many. And fun. We consistently demonstrated excellent spirit and good sportsmanship. Well done.
Footy camp is on again
Dates: Friday 4 November (arrive from 2pm) to Sunday 6 November (out by 11am). Contact Ted and Bill's dad, Marcus.

Last game
knocked out in Prelim

Next Match
Rego day mid Feb 2012, practice match hopefully soon after

Training
was 4pm to 6pm – Mondays & Wednesdays. Pie night Wednesdays.

Home & Away Photos