Contacts

Coach
Sean McMahon

Assistant
Craig Horne

Team Manager
Dan Meehan colts1.fitzroy@gmail.com
News
Grand Final –        Boroondara 11.9.75 to Fitzroy 11.12.78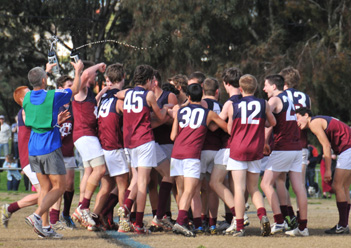 A great win which we deserved, but had it finished one minute earlier, Boroondara would have felt the same. This incredible season, every nail-biting game between the two clubs, each as good as anyone could wish be involved in, should be a reminder to us that what we all really deserved was an close match, and that we got. For all the hard yards, the bravery, the heroics and pain, Football in the end is a game. The ball's not round and there is luck.
Many thanks to Sean and Craig especially, the TMs Dan and Peter, the trainers and all the parent helpers.
Congratulations to each and every player.
was 5.oo to 6.30pm – Tuesdays and Thursdays, W T Peterson Oval, Brunswick St

Photos Home & Away